Alternative Christmas shows in London
Festive culture without the clichés: take your pick of the capital's best alternative Christmas theatre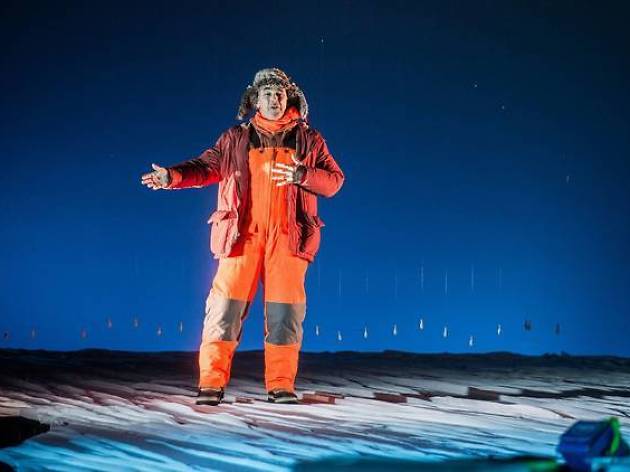 Going to the theatre this winter doesn't have to mean nutcrackers and camp men dressed as Marie Antoinette. There are plenty of alternative shows to be seen in London that will help to quell the Christmas overload.
RECOMMENDED: Find more Christmas shows in London
Alternative Christmas shows in London
This is some pretty heavyweight stuff: the highly respected, five-times-Oscar-nominated Hollywood actor Ed Harris makes his West End debut in a revival of his long-time associate Sam Shepherd's play 'Buried Child'…
Read more
The Royal Court rounds off its 2016 with a new play from Lucy Kirkwood, her first since her all-conquering 'Chimerica'. Directed by James MacDonald, the play follows two nuclear scientists who have retired into glorious isolation to their cottage by the sea, until one day an old friend turns up with the alarming request they call their children…
Read more
This touring stage adaptation of Khaled Hosseini's mega-selling epic novel about a young Afghan boy's life during the unheaval of the Soviet invasion and the tumultuous years that followed finally arrives in London for a limited season. British-Iranian actor Ben Turner stars.
Read more
They may not be your stereotypical idea of rock gods but Andrew Lloyd Webber and Julian Fellows have come together to bring 'School of Rock' to the stage…
Read more
C.S. Lewis is best known for his talking lion fantasia 'Narnia', but the same themes of faith and divinity inspired a few adult novels, too. 'The Screwtape Letters' is a satire, adapted for the stage by Max McLean and Jeffrey Fiske, that's set in an office in Hell. Screwtape is a senior employee of Satan who's trying to catch a poor mortal on earth's soul, using all his wiliest schemes.  This comedy comes to Park Theatre over Christmas 2016, after an Off-Broadway run in New York.  
Read more
It's been quite the year for Anton Chekhov's untitled, unfinished, discarded debut play: a version completed bu David Hare received a cracking production at the National Theatre under the name 'Platanov', and now Hampstead Theatre scores a bit of a coup in getting a new version from the legendary Michael Frayn. The semi-retired 82-year-old polymath's great works are surely behind him..
Read more
There's alternative. And then there's this: Soho Theatre's bloody peculiar Christmas show, which aims to put the magic back into menstruation. Marisa Carnesky's lecture-style show defeats cultural shame with music, a host of guest performers, silliness, and serious scientific research.
Read more
The Old Red Lion's spine-chilling Christmas show is an adaptation of 'Benighted', the haunted house novel that inspired a host of imitators - 'The Rocky Horror Picture Show' included. It's J.B. Priestley's story of a group of travellers stranded in rural Wales, who seek shelter in a crumbling mansion with some rather peculiar inhabitants. This stage adaptation is written by Duncan Gates, and directed by Stephen Whitson.
Read more
Find Christmas shows for all the family
Make Christmas more magical with a trip to one of London's many family-friendly Christmas shows. There's theatre big and bright enough to keep little ones enthralled and performances sweet and subtle enough to entertain the whole family. Find the one that all of your lot will love and book tickets so you don't miss out.
Read more