Christmas theatre shows for kids
Find festive entertainment for your little ones with our guide to Christmas theatre for kids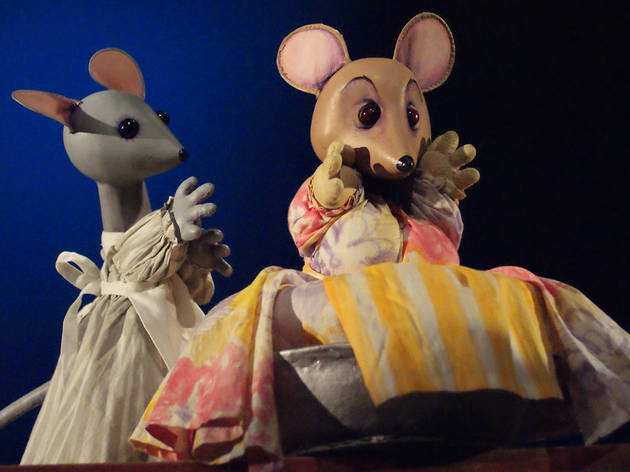 Help make Christmas even more magical while they're still gullible with a festive theatre show created especially with small people in mind. Treat them to a pre-Christmas present with one of London's excellent variety of shows for your young 'uns.
RECOMMENDED: Find more Christmas shows in London
Christmas shows for kids (5-8 years)
David Wood, who's famed for a 40-year strong career adapting kids' classics, has written this new version of Dick King Smith's 'Babe' for the Polka Theatre. It's the story of an adorable piglet who discovers a rare talent for sheep-herding, and leads his gruff farmer to an unlikely kind of celebrity. This farmyard tale will be adapted using original songs and puppetry, in a show suitable for the whole family.
Read more
Nancy Harris and Marc Teitler's scrappy new musical has plenty in it to charm both children and adults who are tired of saintly Peppa Pig's farmyard homilies. This tale of a motley crew of fairytale villains returns to the Unicorn after a successful run at Christmas 2015.
Read more
Iris has a brand new friend, but she knows her family and friends won't love him quite as much as she does. This story of a girl trying to hide a lion in all sorts of devious ways is adapted by Peter Glanville from Helen Stephen's children's story, and will feature songs by singer-songwriter Barb Jungr. There are two versions: one for todders ages 1-2, and another for kids ages 3-6. Check the Polka Theatre website for full details. 
Read more
Families are treated to a banquet with a difference at this lip-smacking interactive show from A Line Art. Every guest will make their own make-believe meal, choosing from traditional Christmas meals with all the trimmings. The waiters will deliver colourful plates of imaginary ingredients, before launching into a musical journey that everyone can get involved in. Suitable for everyone aged 3-plus.
Read more
It's slick. It's commercial. It's had its theme tune murdered by almost every girl under the age of 10. But 'Frozen' doesn't seem to be losing a single snowflake of its popularity among junior Disney fans, so here's a vaguely theatrical excuse to relive the magic. An award-winning team of figure skaters will tell the story of Anna's journey to save her sister Elsa, with suitably lavish costumes and effects courtesy of Disney. 
Read more
Little kids will wriggle in excitement at this festive treat, based on Eric Carle's gorgeous watercolour picture books. As well as 'The Very Hungry Caterpillar', Jonathan Rockefeller's family-friendly stage show will adapt three lesser known stories: 'The Artist Who Painted A Blue Horse', 'Mister Seahorse', and 'The Very Lonely Firefly'.  The production started out in Australia before touring to New York's Broadway, where it scooped up plaudits for its agile cast of 75 puppets.  
Read more
Storytelling maestros Tales from the Shed return with a festive spectacular inspired by the joys of panto. Their 'Talesomime' will be a pantomime with a host of quirky characters including Can-Can and The Thing That Goes Bleurgh, as well as plenty of interactive silliness. Ages 1-6, babies go free.
Read more
Little Bulb have been delighting Battersea Arts Centre audiences with their characteristic blend of comedy, high whimsy and devised theatre for a few years now. Their Christmas show for children is a woodland story, starring a lively cast of forest animals. For kids aged three to seven. 
Read more
Fans of the Studio Ghibli film watch out: Southwark Playhouse's Christmas show is based on the book that inspired it, a novel by Japanese author Eiko Kadono, rather than the luscious animation itself. But it should still offer plenty of charm, as it follows a 13 year old witch who leaves her family to start a new life alone. Jessica Sian's adaptation is suitable for everyone aged seven-plus.
Read more
Pantomimes in London this Christmas
We've gathered the brightest, brashest pantos coming to the capital this winter, so take your pick from the grown-up silliness and childish fun featuring comedians, celebrities and hairy-legged dames.
Read more