Christmas pantomimes in London
It wouldn't be Christmas without a pantomime. Oh no it wouldn't...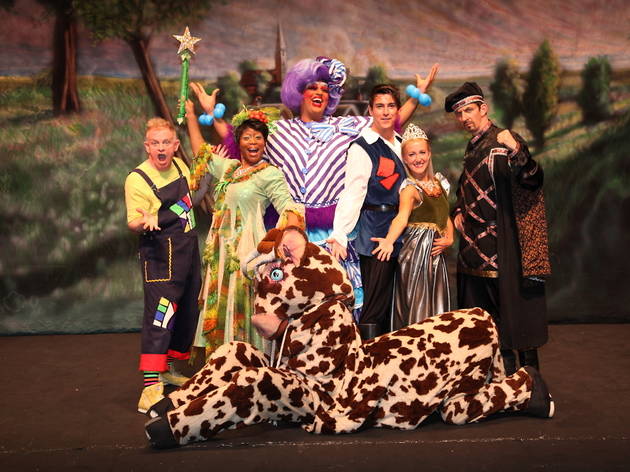 Where's the best pantomime in London this Christmas? It's behind you! Sorry, no, it isn't. It's in the panto list below. We've gathered the brightest, brashest pantos coming to the capital this winter, so take your pick from the grown-up silliness and childish fun featuring comedians, celebrities and hairy-legged dames.
RECOMMENDED: Find more Christmas shows in London
Pantomimes in east London
If you needed further evidence that London can rise above the general shitshow that is 2016, get yourself down to Hackney Empire, pronto…
Read more
The honktastic fairy story 'Mother Goose' is one of the less-staged pantos out there, perhaps because of its sprawling plot that's stuffed with a motley bunch of nursery rhyme characters. But Hackney's spectacular take on the story in 2014 showed how delightful it can be when it's done well. Wilton's Musical Hall's 'Mother Goose' will be adapted by Roy Hudd, whose delightfully whimsical 'Dick Whittington' scooped up plenty of deserved praise last year. Hudd is a veteran comedian and music hall fan, so expect some truly vintage smut and silliness.
Read more
Tucked-away gem Hoxton Hall is a newly refurbished Victorian musical hall, and it's throwing open its doors this Christmas for a traditional panto spectacular. Its take on 'Little Red Riding Hood' features a brand new, song-filled script. And although Hoxton Hall's offering doesn't have the tried-and-true credentials of some of London's other panto stalwarts, the cosy venue should have more than enough charm and atmosphere to delight the whole family.
Read more
Theatre Royal Stratford East's panto offers genuinely kid-friendly silliness and original songs with a less commercial feel than its glittery, celeb-filled rivals. This year, Paul Sirett will adapt 'Sinbad The Sailor', a story of deep sea derring do that'll be helmd by the theatre's artistic director Kerry Michael. The crew will journey to magical lands and mysterious places, in a story that's inspired by one of the tales from the 'Arabian Nights'.
Read more
East London shall go to the ball thanks to this glittering retelling of the 'Cinderella' story at Queen's Theatre Hornchurch. Their classic panto take on Cinders' story has all the traditional characters - Prince Charming, Buttons, Dandini, the evil Baroness - plus a chorus who'll sing and dance their way through pop hits from Elvis to Adele.
Read more
Pantomimes in west London
Richmond's typically slick panto usually involves fiendishly full-on production values and a cast member likely to be loved by its well-heeled West London demographic. This year, 'Educating Rita' actor Maureen Lipman will return to Richmond's panto in villainous form, as adversary of the somnolent star of 'Sleeping Beauty. She'll join a cast that also includes the more kid-friendly talents of CBeebies performer Chris Jarvis. 
Read more
Pantomimes in south London
Famed as the loudest, brashest, glitziest panto out there, New Wimbledon's festive spectacular for this year is a retelling of 'Dick Whittington'. It's a fitting approach for the story of a boy and his cat who hope the streets of London are paved with gold. If previous years are anything to go by, it should offer lashings of high budget spectacle, sparkly scenery, and ear-splittingly loud pop song routines. Seasoned dame Matthew Kelly will wig up once again to play the part of Susan the cook in this story of the country boy-made-good. Other casting tba.  
Read more
Bromley's Churchill Theatre is bringing lashings of old-school panto magic to this swashbuckling tale of pirates and lost boys. 'Strictly Come Dancing' judge Craig Revel Horwood will turn his hand to a new kind of villainy as evil pirate Captain Hook in this glitzy festive spectacle.
Read more
Tara Theatre celebrates its first Christmas in its new home with a Bollywood spectacular of a panto. It's a welcome sequel to their hits 'Bollywood Cinderella' and 'Dick Whittington Goes to Bollywood', mixing Eastern style and sparkle with all the traditional silliness, including a panto dame. Farrukh Dhondy's script is a retelling of the story of 'Jack and the Beanstalk', inspired by Kipling's poetry as well as high-budget Indian glamour. 
Read more
Nope, that's not a typo of Dickensian proportions: this alternative family panto is a very silly mash-up of two seasonal favourites. Comedy trio Sleeping Trees will play all the parts in their pared-down pantomime adventure. It explores what happens when the Ghost of Christmas Past accidentally takes Scrooge a little too far back in time, to the era of magic, fairytales and hordes of joyfully co-habiting dwarves.
Read more
Pantomimes in north London
After last year's 'Cinderella', Millfield Theatre is swinging into action to regale North London with the story of big dreaming lamp-rubber Aladdin. This traditional panto features all the stock characters: Widow Twanky, Wishee Washee, and of course Princess Jasmine. And it'll star Enfield regulars Alex Scott Fairley and Philip Day, as well as a lively all-singing, all-dancing chorus.
Read more
Pantomimes in central London
The first pantomime to grace the stage of the London Palladium in nearly 30 years, this lavish-looking telling of rags-to-riches classic 'Cinderella' certainly comes with an interesting cast. Paul O'Grady as the Wicked Stepmother, Amanda Holden as the Fairy Godmother, Julian Clary as Dandini, 'Any Dream Will Do' winner Lee Mead as Prince Charming, ventriloquist Paul Zerdin as Buttons, Nigel Havers as Lord Chamberlain and Count Arthur Strong as Baron Hardup; the ensemble has definitely got the air of a variety show line-up to it, which is probably all to the good on the storied Palladium stage.
Read more
Daniel Clarkson and Jefferson Turner caper through a host of favourite panto plots in this two-man comedy show. What they lack in lavish costumes, they make up for in lashings of innuendoes, in a very silly helping of festive jollity.
Read more
More family Christmas shows
Make Christmas more magical with a trip to one of London's many family-friendly Christmas shows. There's theatre big and bright enough to keep little ones enthralled and performances sweet and subtle enough to entertain the whole family. Find the one that all of your lot will love and book tickets so you don't miss out.
Read more