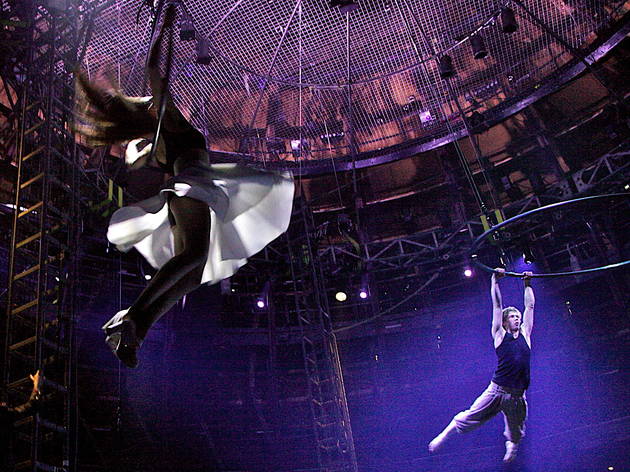 Grungy Welsh circus wizards NoFit State Circus bring back an upgraded version of their 2013 show
The below review is from April 2013; 'Bianco' returns to London for Christmas 2016/17 with a new production.
A woman lifted high into the air, her huge white skirt fanning out before her. A man soaring up to the rafters, bird-like, his arms outstretched. A woman rising and falling amid a shower of snow.
These are some of the enchanting images conjured by 'Bianco', the latest show from the British contemporary circus company NoFit State. They've been peddling their brand of large-scale aerial adventure, marrying acrobatics with clowning, physical theatre and live music since 1986. And they've done that staying true to their original strolling-player principles, with the company living and travelling together as a community.
This breeds a sense of togetherness that's palpable throughout this lengthy, ambitious show. It's a promenade performance, presented on and around sets of scaffolding that need continual rearranging: technicians and performers scurry among the audience, urging people to move out of the way, while busily fixing ropes and rivets.
The performers are undoubtedly talented – every move is attacked with gusto, and the live band do sterling work. But the continual rearranging of the set is distracting for the audience, and it's difficult to see quite what else the promenade setting adds – you could watch all the aerial stunts perfectly well from banks of seating, and some of the ground-level work is barely visible to those at the back of the crowd.
There's precious little narrative, too, to weld together the arresting visual imagery – and some of it is delivered, bewilderingly, in French and Portuguese. Laura Barnett