London Design Festival: the best bits
Innovation, craft, furniture showcases – the annual celebration of all things design comes to the capital this September
By Nick Aveling Thu Sep 5 2013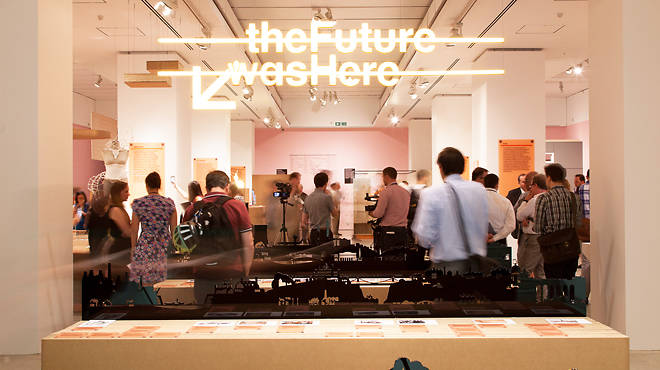 The annual London Design Festival spans dozens of locations and hundreds of exhibitors. But don't be overwhelmed – for starters we've picked the best of the fest's events and destinations. Check out our six festival highlights below.
The Design Festival's 'landmark project', Endless Stair, is designed by RCA School of Architecture's dean Alex de Rijke and located on the lawn in front of Tate Modern. The giant interlocking series of 20 hardwood staircases is not only a stunning piece of design – with more than a little in common with MC Escher's surreal drawings – but also doubles up as a giant playground created to be climbed. There are 187 steps to ascend and new views of the Thames as your reward.
Tate Modern, Bankside, SE1 9TG
Fri Sep 13 – Thu Oct 10. Free
More info
2
Shopping
Each year, hundreds of shops, galleries and museums take part in the festival with special sales and exhibitions of their own. Viaduct in Clerkenwell is one of them, this year exhibiting Belgian furniture by Muller van Severen (free; Sat Sep 14 – Sep 22). British design polymath Donna Wilson celebrates ten years of cool soft furnishings at ICN Gallery in Shoreditch (free; Sep 17 – 22), and 'Ceramics in the City' at the Geffrye Museum is a showcase of work by some 50 potters (free; Sep 20 – 22).
Various venues
From Sat Sep 14
This four-day fair at the Old Sorting Office in Holborn is a kind of fest within the fest: ideal if you've only got time for one event. More than 150 exhibitors will showcase the best global furniture, lighting and product design, while a programme of events includes free seminars on architecture and design, guided tours of London with Tokyobikes, and a Flash Factory events where you can watch live demonstrations of items being made. For sustenance, stop off at Jamie Oliver's barbecue steakhouse Barbecoa, which is popping up within Design Junction.
Old Sorting Office, 21-31 New Oxford St, WC1A 1AA
Sep 19 – 22. £10, free is you pre-register at www.thedesign junction.co.uk
More info
The mighty V&A is hosting an impressive 60-plus programme of talks, installations and workshops during the nine-day festival. Some of the top events include Type Tasting, which invites participants to experiment with unusual materials to create letter forms (free; Sat Sep 14 and Sun Sep 15) and The Dinner Party (Sat Sep 14 – Sep 22) – an interactive display by Dutch duo Scholten and Baijings which asks visitors to pull up a chair, roleplay a real dinner and handle the ceramic and glassware design close up.
V&A, Cromwell Rd, SW7 2RL
From Sat Sep 14
More info
5
3D Printing
Unsurprisingly, the much talked-about process of 3D printing is a big deal at this year's fest. Head to the Design Museum's exhibition 'The Future is Here' to contemplate a world where everyone can make everything at home (£11.85, £10.70 concs; Oct 29). Or join the scientists and tech experts at panel discussion 'What's the Future of 3D Printing?' at the V&A (free; Sep 17). Better yet, see what a 3D printer can do in the hands of the pros at 3D printing workroom Digits2Widgets (free; Sat Sep 14 – Sep 22).
Various venues
From Sat Sep 14
There are plenty of reasons to visit the Southbank Centre during LDF. International pavilions from Sweden, Mexico and India showcase new work from each country, while The Fifth Element programme dares 30 design futurologists to employ the latest in technology to create a series of conceptual installations at the Royal Festival Hall. But none of that could eclipse the 200-litre, seven-foot, eight-inch lava lamp built by Brit brand Mathmos to celebrate its invention's fiftieth year.
Belvedere Rd, SE1 8XX
Wed Sep 11 – Sun Sep 22. Free
More info
Read more about the London Design Festival
---
---