Notting Hill Carnival information
Plan your day at Carnival now – here's all you need to know about travel, visiting with children and staying safe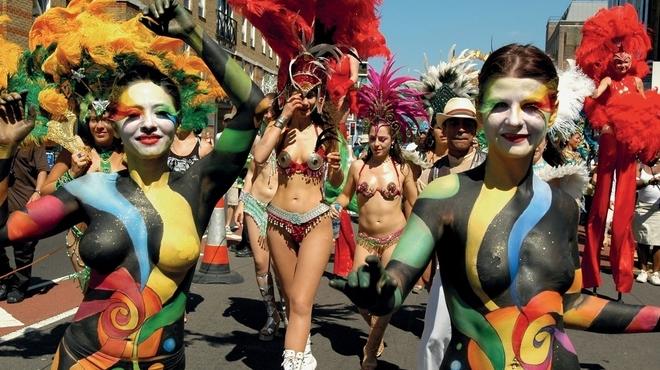 © Notting Hill Carnival

If you're heading to Notting Hill Carnival this year, be sure to check out our information guide. Crammed with everything you need to know about getting to the Carnival, advice on how to stay safe over the weekend, plus details on entertaining the kids at the event, our info guide is must-read before attending Carnival this year.

Parade route | Travel | Safety and security | Attending with children | Top Carnival tips
The parade route
The carnival procession itself begins at 9am on both Sunday and Monday, but after the parade has finished and the floats have left the area, the carnival's many after parties begin. The main parade starts on Great Western Road, winding its way along Chepstow Road, then on to Westbourne Grove, and then down Ladbroke Grove. See our Notting Hill Carnival map for the full route.
Travel: tubes, buses and bikes

Travel to and from Notting Hill on Carnival weekend will be restricted and heavily congested, so work out your best route by using the journey planner on www.tfl.gov.uk. Consider making an early or late entrance to the carnival to avoid congestion.

Tube: Notting Hill Gate: There will be no interchange between the Central and District/Circle lines on either day. On Carnival Sunday and Monday the station will be exit only between 11am and 6pm. On Carnival Monday the Circle and District lines will not stop from 12noon to 7.30pm. Ladbroke Grove: Station closed on Carnival Sunday and Carnival Monday. Royal Oak and Westbourne Park: Exit-only between 11am and 6pm on Saturday and Sunday. The latter shuts at 11.30pm. Latimer Road: On Carnival Sunday and Monday the station will close at 11.30pm. Bayswater, Queensway and Paddington: Operating as normal. Other stations near to the Carnival are High Street Kensington, Holland Park and Queens Park.

Bus: While extra services will be in operation, no buses will enter the Carnival area from first thing Sunday morning until the first service on Tuesday morning. On both days bus services begin from Notting Hill Gate in the south and from Harrow Rd (close to Elgin Avenue) in the north. Night buses will also be subject to disruption, with the N7, N18, N28, N31 and N52 all being diverted.

Bike: Last year the nearest bike-docking stations – Chepstow Villas and Pembridge Road – were removed for Carnival, so don't rely on be able to dock your bike nearby this year.
Safety and security

After last year's riots and following previous incidents at the Notting Hill Carnival, all eventgoers are advised to be extra vigilant at Carnival this year.

Avoid carrying expensive items, such as jewellery and digital cameras. Take a bag with a secure zip to keep your more valuable possessions in and avoid putting your valuables in your back pocket.

Do tell police if you see an incident. Officers will be stationed throughout the Carnival area.

Don't try to walk against the flow of the crowd, as you won't get far.

Drink plenty of water on the day too, especially if the sun makes an appearance.
Children

Children's Day on Sunday is recommended for families as the smaller crowds and kid-friendly floats create a fun vibe.

Arrange meeting points in case you become separated.

The smaller the buggy, the better. Ideally, use a baby sling if you're able to.

Ear defenders may be necessary for very young children.
Useful tips

Leave your car at home and make your way to the Carnival on public transport.

The earlier you arrive, the less crowded it will be.

Bring comfy shoes and give flip-flops and open-toed footwear a miss.

Plan your toilet stops to avoid queues, and bring your own loo roll and hand sanitiser.
See our ultimate guide to Notting Hill Carnival
---
See our guide to Notting Hill Carnival
See our Notting Hill Carnival map
Get Carnival tips from the experts
Listen to The Heatwave's Carnival mixtape