The 30 best Miami restaurants
Feast on the finest food in Florida—with our ultimate Miami restaurant guide
By Jennifer Wood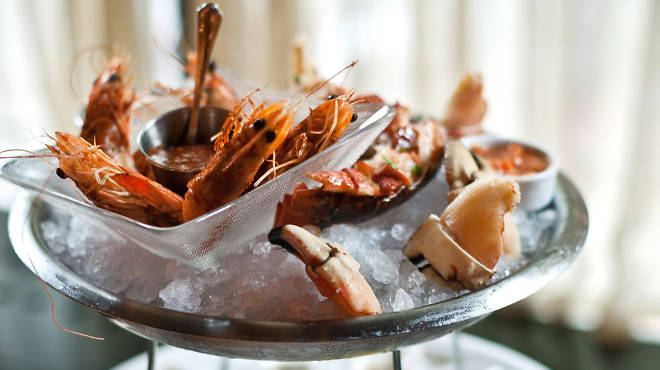 Go Dutch on seafood at the W South Beach hotel's Dutch restaurant © Noah Fecks

Choosing where to eat in Miami these days can be as challenging a decision as figuring out which SPF to lather up with on the beach. But that wasn't always the case. As recently as even a decade ago, the best restaurants in Miami were usually the ones anchoring a swanky South Beach hotel lobby. And while there are still plenty of impressive eats to be found within the confines of the city's hippest lodgings—Bazaar by José Andrés at the SLS, the Dutch at the W South Beach, BLT Steak at the Betsy, and Bianca at the Delano among them—diners who are willing to wander off the well-worn tourist pathways will find themselves deliciously rewarded.

From South Beach to Sunny Isles Beach to the Design District to Downtown, the food scene in Miami is really, truly booming. While local chefs like Michael Schwartz continue to churn out new twists on their individual concepts, restaurant firms like 50 Eggs, Inc.—the folks behind Yardbird, Swine, Khong and Lime Fresh Mexican Grill—are helping to give Miami restaurants their own unique flavor. And they show no signs of slowing down.

With new eateries popping up on a seemingly daily basis, keeping on top of the best restaurants in Miami at any given time can be a challenging task. Which is why our editors have done the legwork for you. Whether your current craving has you longing for a perfectly crispy plate of fried chicken or a locally-sourced tomato and burrata salad, there are bound to be endless options at our picks for the 30 best restaurants in Miami…
Cuban and Latin American cuisines
---
Classic American
---
Steakhouses
Rated as: 4/5
Price band: 3/4
Critics choice
No, it's not a pick-up joint. Cited as one of the city's "buzziest restaurants" by Condé Nast Traveler, Meat Market is one of the classier spots to set up shop on Lincoln Road. It's enormous, too (4,400sq ft, with a cute outdoor café for al
915 Lincoln Road, at Jefferson Avenue
More info
Rated as: 4/5
Price band: 4/4
Who in their right mind would ever pay $25 for a hot dog—OK, a Kobe beef hot dog? Diners at this posh steakhouse, that's who. Command central for carnivores and those who devour a good, star-studded scene, Prime 112 ("Prime One Twelve") is
Local legend has it that Al Capone is alive and well and living in this steakhouse's acclaimed wine cellar. The place itself is a rococo-lover's fantasy: multi-chambered, ornately decorated (and priced) and completely OTT. Although it stands as
432 41st Street, at Royal Palm Avenue
More info
---
Seafood
Price band: 3/4
Critics choice
South Florida's most famous restaurant, Joe's (which turned 100 in 2013) is as much a Miami must-see as Ocean Drive. It attracts locals, tourists and celebs, serving seasonal stone crabs (October–May) with a "secret" sauce, garlic creamed
11 Washington Avenue, at 1st Street
More info
Rated as: 4/5
Price band: 2/4
Critics choice
Down by the river, tucked behind a maze of downtown freeways and bridges, this seafood shack is a hidden gem. From the nautical interior and rustic waterfront deck to the fishing boats that chug by, this place oozes character. Conch fritters,
398 NW North River Drive, at NE 2nd Avenue
More info
Rated as: 4/5
Price band: 3/4
Even if it didn't boast one of the city's most spectacular views—the Miami skyline is laid out in front of you from the 16th floor of the EPIC Hotel—chef E. Michael Reidt's innovative seafood, much of it sourced from the waters you can
EPIC Hotel, 16th Floor, at SE 4th Street, (270 Biscayne Boulevard Way)
More info
---
European cuisines
---
Italian restaurants
---
Asian cuisines
Rated as: 5/5
Price band: 3/4
Nobu Matsuhisa is regarded as the world's greatest sushi chef, but that's not why this place is booked up weeks in advance. No, this outpost of the global raw fish superpower is lodged at the Shore Club and it's the combination of
Rated as: 4/5
Price band: 2/4
Andreas Schreiner, Jose Mendin and Sergio Navarro—the trio behind Pubbelly—have got quite a growing business on their hands. In addition to this original outpost, the city's first Asian-inspired gastropub, they've grown their family of
Rated as: 4/5
Price band: 2/4
Critics choice
A neighborhood mainstay for more than 25 years, this tiny Vietnamese restaurant has only 35 seats, all constantly occupied by locals. Fill up on expertly prepared Asian specials such as kingfish with yellow curry sauce, cooked on a six-burner stove.
3458 Calle Ocho (SW 8th Street), at SW 34th Avenue
More info
More Miami restaurants
---