Brandon Collwes
By Gia Kourlas Mon Dec 19 2011
---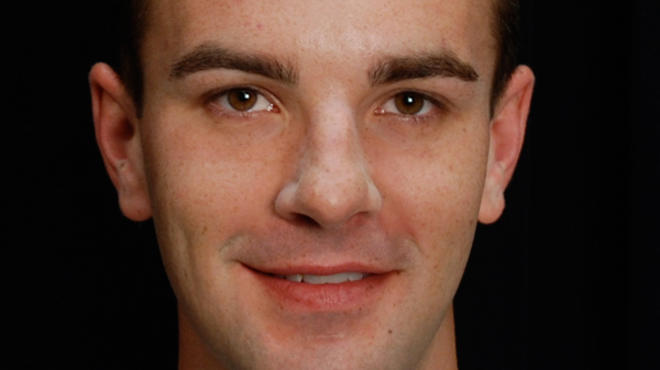 Photograph: Anna Finke
You're from Pittsburgh. When did you start dancing?
I started dancing when I was 6. I started with gymnastics and there was a little musical-theater school in the same building—it was actually an old elementary building that had all these different things going on. So I had the gymnastics classes on one end and I felt like everyone was having more fun at the musical-theater school, so I talked my mom into letting me start classes there and I actually started with dance.

What kind of dance, do you remember?
It was jazz.

Did anyone in your family dance?
No. I have two brothers, and they're sports people. Pittsburgh's a healthy sports town, so it was kind of random. I don't think that my mother even really had a special fondness for the arts or anything; it was sort of like I wanted to do it and they were cool with it.

So you studied it for how long or continued there for how long?
I was super-young and I started just taking general acting classes and voice classes and was part of a little performing group that they had—I think it was called Broadway Kids. But at that school they also had a satellite school of the Pittsburgh Ballet Theatre. So I got into that. I was offered a scholarship and trained there up until I went to the performing arts high school in Pittsburgh. I did The Nutcracker there and stuff like that.

I'm always interested in young boys who decided to stick with dance and probably had to deal with grief. I think that's great.
Thanks. I lucked out with the performing arts high school thing though, you know? That was important, and for me to find myself there was easier for sure. I kind of kept it quiet. Not a lot of people knew exactly what I did. I mean I was always different and there was some bullying. But I do remember I got like the prince in The Nutcracker and there was my stupid picture all over billboards and all this crap, and just being like, "Oh no! I'm found out!" It was mortifying.

How old were you?
I must have been 10. There was one other boy, Stephen Hanna. I think he was maybe a year older. He was the only boy in this satellite of the Pittsburgh Ballet Theatre. Once I moved up in levels, there were other male dancers who came from different places to go to that school because they have a pretty good training program. I always gravitated more toward modern things and didn't really love the ballet. I didn't have that thing for it. It gave me a really great base. The technique was Balanchine and it was good for me. The director at that time was Patricia Wilde. David Holliday was the director of the school.

When did you start learning about modern dance or even studying it?
Once I went to the high school, we had like a modern class. And it was just like roll-on-the-floor-kind-of-modern. It wasn't steeped in any real technique, it was just someone's vision of what modern was. Every year at the performing arts high school, there was a national conference where you would audition for different summer programs like Bates and ADF [American Dance Festival]. I got a scholarship to the Graham school. I don't think that I even had any idea who she was. I remember going to the library and being excited about it. That really just opened up a whole lot to me at that point.

So you went to the Graham school in New York?
Yeah. For a summer. I think it was '97 or '96.

It was the original building on 63rd Street.
Yeah. I took class with, like, Pearl Lang. They were all around still, all those people. It was a six- or seven-week program and the teachers just rotated, and I don't really remember many of them. The first was Armgard [von Bardeleben]. She was great. At the end of every class, she was like, "Now we have to spend time rubbing our feet for fifteen minutes." It was very important to her that you respected your feet.

Did you like the technique? Because it can be challenging for men.
I have this open-hip thing, so it wasn't that bad. I was fortunate and I was young enough and flexible—it worked for my body at that time. I remember I took work with a small modern company in Pittsburgh and the director, upon hearing that I was going to do this, said, "You might have a lot of problems with your body," and scared me a little. He said, "Just take it easy." I guess he had a bad experience with it, but it worked for me.