Emma Desjardins
By Gia Kourlas Fri Dec 16 2011
---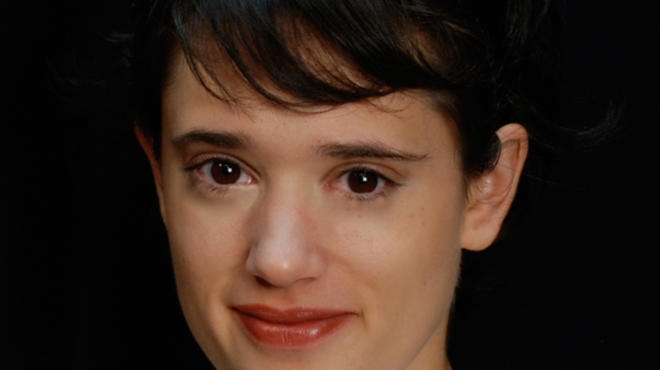 Photograph: Anna Finke
When did you start dancing?
I'm originally from Rhode Island, and I started dancing when I was very young. Ballet at five. I started in a sort of community center ballet class, and pretty soon thereafter my mom was hearing from teachers and moved me into the company school of the Festival Ballet of Rhode Island. So I studied there from elementary school, and by the time I was in high school I had the opportunity to be in the junior company. That meant some performances of the standards: The Nutcracker, Swan Lake.

You were really on a ballet track?
Yeah. I did some modern dance at summer programs, but it was at Barnard College where I discovered Cunningham and Cunningham technique. And it was the technique that really hooked me. I hadn't seen much of the work before I started the technique. I wanted to keep doing it and learning more. Before graduating, I was already taking classes over the summers at the Cunningham Studio, but after graduating I was in the scholarship program. I graduated in 2003. In January of 2004, I was a RUG [Repertory Understudy Group], and in 2006 I joined the company.

Had you taken much modern dance before Barnard?
Not much. Every summer in high school I did a program that had a little smattering of—they wouldn't even really call it anything specific, but modern. Just a little bit of something different.

Where did you go?
One summer I went to the Joffrey [in New York]; we didn't do much modern. Another summer I went to Virginia School of the Arts and actually, I have this funny connection with Jeff Moen, who teaches at the Cunningham Studio. He was never in the company, but when I was at Festival Ballet, he would guest in our Nutcracker. So I knew him then, and as kids we were always very in awe of the people who came to guest. Jeff Moen also taught at modern at Virginia School of the Arts' summer program. I took his modern class and understudied a piece of his for the final performance. And then I went to Barnard, and he was the teacher of Cunningham technique. At the summer program, he didn't teach Cunningham per se, but now, in retrospect, it was really based in Cunningham. And then at Barnard he taught Cunningham; of course, he teaches at the studio, so I feel like everywhere I go, he keeps coming up. [Laughs]

He's your through line. Why did you decide to go to Barnard?
I knew I wanted to go to a liberal arts college that had a good dance program. I actually didn't want to go to Barnard at first because my cousin had gone there ten years before and my aunt, her mother, had gone to Barnard. It was an all-women's college—and I had gone to an all-women's high school. It sort of was everything I didn't want, but then I came to the dance program to visit, and it was just the right fit. None of the other schools had quite the same academics. I wanted a dance program, but if I was going to go to college I wanted academic rigor and a good education that could take me somewhere else in the future.

Were you a dance major?
I was a dance major, but I studied a lot of sciences. I did premed requirements.

When you were at Barnard, whose pieces were you in, or who did you study with? Who was in charge at the time?
When I was there it was Janet Soares, and she was there the whole time I was there. Sandra Genter was still there, Katie Glasner—and she's still there now. Donlin Foreman.

He taught Graham technique?
He taught Graham. And then some other people were sort of in and out. We had Lila York for a little while—I did a piece of hers. I took her class. We had Risa Steinberg, which was fantastic. I did a Limn piece with her. I did a piece with Sandra Genter; I did a piece with Jeff Moen; I didn't do the Cunningham piece. It happened when I was a freshman and it wasn't on my radar yet. I was always hoping that they would do another one while I was there, and then they didn't. It was Winterbranch, and that was the first Cunningham piece I saw live.

Were you also studying dance history with Mindy Aloff?
Yeah, Mindy was there and Lynn Garafola. And they were great; they were the academic side of the dance department.