Current exhibits at the Museum of Modern Art (MoMA)
See what exhibitions are currently on view at the Museum of Modern Art (MoMA) in New York City.
By Time Out editors
Rated as: 5/5
Critics choice
This fascinating exhibition surveys the work of Brazilian avant-garde artist Lygia Clark (1920–1988), a central figure in Brazil's short-lived Neo-Concrete movement of the late 1950s and early '60s. The Neo-Concrete artists borrowed from European nonobjective painters such as Piet Mondrian and Kazimir Malevich, but rejected their rationalism in favor of a more poetical and phenomenological approach. Clark and her compatriots, such as Hélio Oitica and Lygia Pape, developed a peculiarly sensual variety of abstraction extending into social space. They would all eventually experiment with performance and interactive forms of art that have new currency today. For Clark, who eventually became a psychotherapist, this began as hinged artworks that could be folded into different shapes by the viewer. "Relational objects" worn by clients in her private therapeutic practice—such as headsets outfitted with shells that covered a person's ears—followed. In Clark's first retrospective in North America covers those developments and more, tracing the aritist's career from her luminous early abstractions of the 1950s to her multi-sensory, participatory artworks of the 1970s. Organized chronologically, the show is divided into three parts, each representing a significant phase in her artistic development. Clark started out by studying painting in the late '40s, including a stint in Paris under the tutelage of Fernand Léger. In the mid-1950s, she made her first major works: Puzzle-like paintings
Rated as: 5/5
Critics choice
Sigmar Polke (1941–2010), a giant of postwar painting and the originator, with Gerhard Richter, of Capitalist Realism, Pop Art's darker German variant, is at last getting the retrospective he deserves. Polke's signature non-signature style and exploration of unconventional materials and techniques have already made him a hero to several generations of painters. More of an influence on today's artists, however, may be his embrace of multiple mediums and his frequent blurring of boundaries between them. This exhibition is the first to present Polke's prints, photographs, films, installations and performances alongside his paintings and drawings. The show, which will travel to London and Cologne, is massive, spanning nearly 50 years and comprising over 250 works. It includes images taken from art history, books on magic, naughty cartoons, television news, and Polke's private life; materials such as found fabric, coal, adhesive tape, meteor dust and bubble wrap; and styles that range from debased Pop—dull colors and clotted Ben Day dots rendering ominous American-style consumerism—to hazy abstraction. Serving as an introduction to the exhibition, and underscoring the diversity of Polke's output, is an installation of a dozen or so mostly large, finished works from different periods of his career. Among them is a 1960s midnight blue wall hanging (sprinkled with cardboard circles replicating a star map on which the artist has traced a constellation of strings spelling S.P.O.L.K.E.)
Price band: 2/4
Critics choice
MoMA takes viewers back to La Belle Époque in this survey of the graphic art of Henri de Toulouse-Lautrec (1864–1901), surely one of the best-known and beloved names in art history. All of his iconic images are here, along with the landmarks of late-19th-century Parisian nightlife referenced therein, as well as its habitués onstage and in the audience.
Price band: 2/4
Critics choice
Like Robert Heinecken, Williams came out of the West Coast as a photographer who deconstructed his medium through unconventional methods. In Williams's case, this has meant employing commercial photographers to create his works, images that dispassionately dismantle the mystique of the darkroom, the photographer's studio and the camera itself. The results often have the burnished look of midcentury catalogs for photographic services and equipment.
Price band: 2/4
Critics choice
The contribution of women designers during the 20th century is the focus of this survey drawn from MoMA's collection. One highlight: a complete reconstructed kitchen originally created for Le Corbusier's midcentury Unité d'Habitation housing complex in Marseille, France, by Charlotte Perriand.
Photography embraces many genres, both outdoors and in. But some of the most radical experiments in the medium have been created by artists operating within the confines of the studio—using it not only as a physical place in which to take pictures (or create them using cameraless techniques like the photogram), but also as a conceptual framework that, in many cases, dictates content. MoMA rounds up numerous examples in this fascinating survey, from the invention of the photograph to the present.
Price band: 2/4
Critics choice
Painter Lucian Freud is the subject of this small gathering of Jasper Johns's latest works, which includes two paintings, two prints, four ink-on-plastic drawings and several pencil sketches. The view of Freud is derived from a black-and-white photo by British photographer John Deakin, one of a series used by yet another artist, Francis Bacon, to create his own portraits of Freud. As he sometimes has throughout his career, Johns utilizes a mirrored doubling of the image as a compositional effect, while transforming certain details of the photo—including its creases, tears and areas where the picture has been lost—into motifs that are repeated and reworked over successive iterations.
Price band: 2/4
Critics choice
When most people think of architecture, they picture buildings from the outside. But an equally crucial aspect is formulating the interior space that people will move through and, hopefully, be moved by. This exhibit, which presents 20 recent acquisitions for MoMA's design collection, explores this vital discipline of spatial creation in the form of large-scale models, drawings, photographs, videos and installations.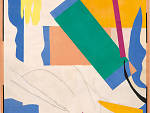 Price band: 2/4
Critics choice
It was rather late in life that Henri Matisse (1869–1954) began to create one of his most extraordinary bodies of work. Starting in the 1940s, he cut out shapes in colored paper, arranging them into compositions that sometimes seemed to push into pure abstraction. Even when they didn't, the forms he employed—nude figures, floral motifs—appeared to float in space, and it is this sense of buoyancy that makes these paintings among the most compelling in his oeuvre. MoMA's survey is the first to focus on this aspect of his career since 1961, and if anything, the works have only gained in power in the intervening years.
See all exhibits at the Museum of Modern Art (MoMA)
---
You might also like
---