Rusty Knot
By TONY Tue Sep 9 2008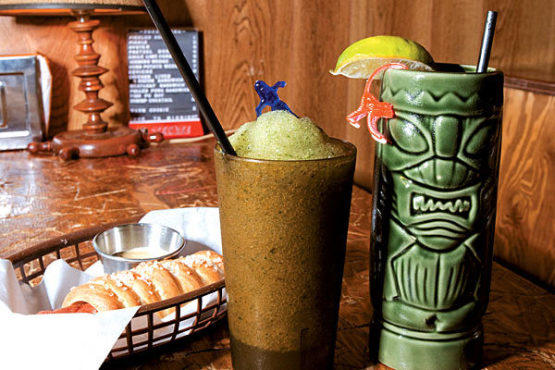 From left: The pretzel-dog, the Rusty Knot, and a dark and stormy Photograph: Roxana Marroquin
Time Out Ratings :
<strong>Rating: </strong>3/5
Downtown dining kings Taavo Somer (Freemans) and Ken Friedman (the Spotted Pig) could sell lukewarm Bud Light in an oil-stained parking lot, and New Yorkers would still come running. So when they teamed up to open the Hudson River--hugging Rusty Knot, success seemed as predetermined as a Russian election. The nautical "dive bar" (Friedman's words) is equipped with lowbrow trappings like stuffed fish, faux Tiffany lamps and neon beer signs, which seem an odd match for the foppish hordes who queue up outside the place. The elaborate tiki cocktails (devised by Milk and Honey vet Toby Maloney) also clash—though not offensively—with the faux filth. Yup, guys, we get the irony. You'd never find the eponymous Rusty Knot—a blender-whirred mix of rum, ice and mint that recalls a refreshing, dare we say, girly, mojito Slurpee—at a grimy pub. Ditto the excellent dark and stormy (dark rum, ginger beer and lime), which rocks a pleasing spiciness. But the Achilles' heel of every tiki drink is a saccharine sweetness, and the Knot's are not immune. The spiced colada is a thick, tooth-aching blend of coconut milk, pineapple juice and rum (still too sugary even with the addition of bitters), while each sip of the candylike Zombie (with guava, rum, passion fruit, lemon and lime) sets the groundwork for tomorrow's throbbing hangover. To prevent it, Momofuku vet Joaquin Baca offers a short menu including soft-pretzel-encased hot dogs and a luxurious bacon--chicken liver sandwich, both strokes of greasy-salty genius. For those who would be equally content with a basket of wings, there's a hint of proletarian grit to the place. A round of pool is 50. Busch pints cost $3. The classic-rock juke plays "Hotel California." Sure, you might never see an army of hogs lined up outside Somer and Friedman's entry into West Side nightlife, but their high-low hybrid works for us.
425 West St at 11th St (212-645-5668). Subway: 1 to Christopher St--Sheridan Sq. Daily noon--4am. Average drink: $10.