Theater & Performance
Broadway troupers share the spotlight with students from Newtown, CT in A Rockin' Midsummer Night's Dream
---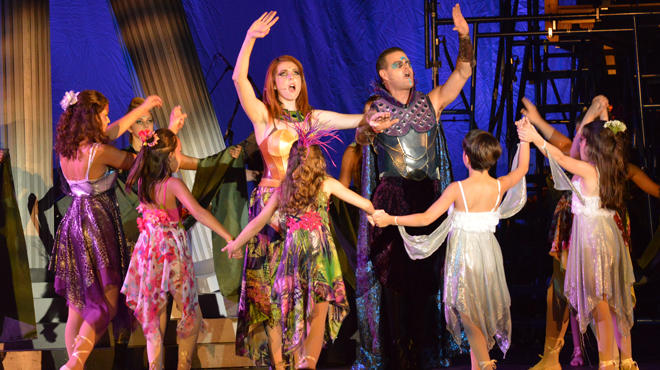 A Rockin' Midsummer Night's Dream at Newtown Hight School Photograph: Van Dean
If you see a show outside New York and notice Broadway credits in the program, you're probably at a regional theater or summer festival, which draw professional talent during the off-season. This past weekend, I saw some hoofers and crooner from the Great White Way—but not in summer stock. It was A Rockin' Midsummer Night's Dream and the venue was unfamiliar to me: Newtown High School's impressive 1,200-seat auditorium. This is the same town, as you may have guessed, that experienced unimaginable tragedy on December 14, 2012.

The show (in rep with a musical version of 101 Dalmatians) is the latest offering of the 12.14 Foundation. The nonprofit initiative is the brainchild of Newtown resident Dr. Michael Baroody, working with Broadway producer Van Dean (co-founder of Broadway Records) and director Michael Unger. The idea behind the foundation is to use the performing arts as a way to heal the community—especially children and teens still processing the event. A Rockin' Midsummer Night's Dream is a playful, lighthearted but touching riff on Shakespeare's comedy, with an eclectic pop-rock score by Eric Svejcar (played by a lavish 33-piece orchestra) and new lyrics by Svejcar and Unger. Leading the cast is Clarke Thorell (Annie, Hairspray) as Oberon, Marla Mindelle as Titania and a hard-working and very funny Saum Eskandani as the boisterous Bottom. These seasoned talents shared the stage with students who ranged from fifth-graders to high-school seniors—the latter no doubt huge fans of American Idol and Glee. (Full disclosure, the ten-year-old son of a family friend—who was at Sandy Hook Elementary School on that day—is playing the role of Snug the Joiner. His roar was stupendous.)


Since I left my critic's hat back in New York, I could unwind and enjoy two hours of simple, innocent theatricality (staged, mind you, with professional sheen and bounce by Unger). There's an inherent sweetness in seeing adults and children share the stage, and Midsummer's themes of adoption, parental anxiety and the healing power of love came through strongly. Plus, whose heart doesn't melt at the sight of seven-year-old fairy girls dancing in formation? I see a lot of theater that seems to exist purely to make a buck or fill a quota; here was art deeply connected to a community and making a difference in people's lives. There are four more performances left (including tonight at 7pm).

The long-term goal of 12.14 Foundation is to establish a performing-arts center in Newtown, "a unique, multi-purpose facility that attracts world-class performers… representing our feelings and memories, that will also be a beacon of hope for the future," according to press materials. It's a wonderful mission. In the wake of war or catastrophe, or an atrocity such as the one at Newtown, the conventional civil response is to erect a mute slab of rock or metal. Better to raise money and gather resources for a living, breathing monument that will get kids on their feet—laughing, talking, dancing and singing.
At least, that's the dream.
---