DJ mix: Hanne & Lore
Hanne & Lore's Stefan Helmke and Steffen Neuhaus prep the city's clubbers for their NYC debut.
By Bruce Tantum Fri Feb 21 2014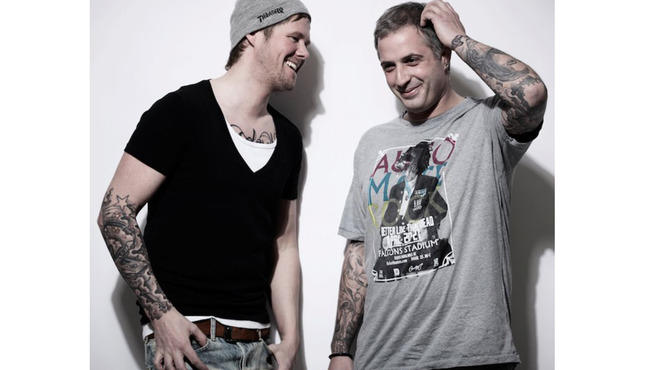 Hanne & Lore
You may not be familiar with Germany's Stefan Helmke and Steffen Neuhaus, together known as Hanne & Lore—but if you're at all into high-grade electronic house that pays tribute to its Chicago roots while looking towards the future, chances are you will be soon. Last year, the pair launched the Heulsuse label—but Helmke and Neuhaus have actually been moving dance floors with their rock-solid rhythms for a while now, via a series of hot productions and remixes for Monaberry (home of Andhim, Super Flu, Monkey Safari et.al.), My Best Friend, Sunset Handjob and similarly groovy imprints. The pair have never deejayed in NYC, but that'll change on Saturday, March 1, when the pair play the Bespoke Musik bash at a secret Brooklyn location, with support coming from the Audiolith label's talented Rampue, who'll be laying down a live set. Still not sure? Check out this recent DJ set of Hanne & Lore's subtle yet strapping sonics, culled from the Bespoke Musik Radio series of mixes; we think it'll convince you.
Bespoke Musik: Hanne & Lore is Saturday, March 1.
Follow Bruce Tantum on Twitter: @BruceTantum

You might also like
---
We've rounded up the top summer shows of 2014, along with the best free shows, festivals and world-music picks at clubs and outdoor venues all over NYC.
Half of the duo that makes up the beloved Mister Sunday tells us what we can expect this summer.
The first annual Nerdlesque Festival sets its phasers to stun.
The city's least visually impressive pageant is back with some more truly tiny tiddlers.
Listen to DJ mixes of house, techno, dubstep and more.
Find the best club nights, DJ residencies and places to go dancing in NYC.
See more in Clubs & Nightlife