Q&A: Visionquest
The Visionquest quartet sets its sights on Output.
By Bruce Tantum Tue Nov 19 2013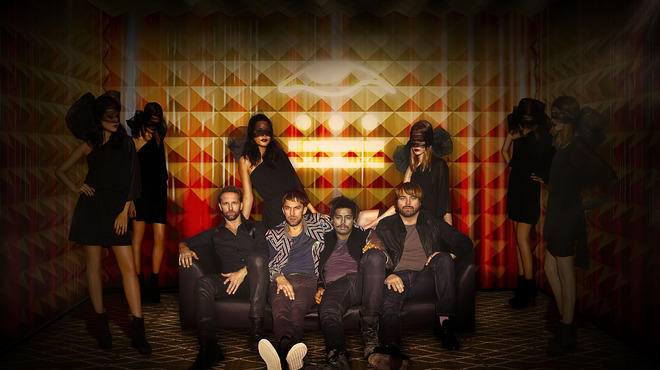 Visionquest
Individually, Ryan Crosson, Lee Curtiss, Shaun Reeves and Seth Troxler are major players on the underground scene, taking their musical cues in varying degrees from Detroit (where all four have lived at times over the years), Chicago and Berlin. Put the four friends together, and they form Visionquest, a clubland supergroup and label that has helped define the sound of modern nightlife via their slightly skewed, sometimes pop-tinged and always groove-driven take on club beats. The crew is nearing the end of its ambitiously conceived, yearlong Visionquest 13 tour, which stops at Output this Friday—but Crosson still had the energy to pick up the phone for a quick chat.

You guys are all originally from the Detroit area, right?
Well, I'm the one who was born and raised here, but the other guys all moved from other places. Seth moved to a suburb near here when he was 14; Lee came here when he was a little bit older, when he was around 23; and Shaun moved here when he was 18.

And how did you all meet?
Through partying, basically, and record stores and stuff like that.

How did partying and hanging out in record stores morph into working together?
We were just kind of around, and then at one point Seth got into a fight with one of his girlfriends. Seth had nowhere to go, and Lee said, "Hey, you can move in with me." That's what kind of got things going. At that time, I was hanging out with Seth, but I only knew Lee a little. But after Seth moved in, I found out that I only live a half mile away from Lee, so after that, I was over there all the time. We ended up doing a lot of partying in their basement. [Laughs]

You guys were all producing and deejaying separately before Visionquest came into existence.
Yeah, sure. Lee had been producing stuff on his own for quite a while, Seth and I had been working with the guys from [longtime Detroit techno collective and label] Beretta Music, I had just signed some stuff to Trapez and Minus, and Shaun had been throwing Citypeople Music parties with this guy Matt Abbott. There were lots of different things going on.

This would have been around ten years ago, right?
Yeah, sometime around then. We were all kind of doing our own thing. Then a few years later, we did a remix EP for the Dumb Unit label [2007's Sweet 'n Candy EP from Butane]. But it didn't really kick off till we were all in Europe; at that point, we added Shaun and got the label going. And it's all been going from there. But we didn't start performing as Visionquest until a couple of years ago.

It seems like there's a bit of mythology built up around the tour, with press releases referencing the Mayan long-count calendar and the mysticism of the number 13. How much of that is for real?
That was a way of presenting something that was an alternative party situation. The idea was to create alternate environments and bring about this change in consciousness about what an electronic-music experience can be. But, things happen. [Laughs] The dates and the venues got switched about so many times, and we ended up playing at a lot of festivals or in other situations where we couldn't control the environment.

There's certainly nothing wrong with just going out and playing gigs, though.
Oh yeah, it's been great, but we haven't always been able to follow through with what we really wanted to do—turning clubs inside out and creating whole new environments.

But you still have the music.
Which is the most important thing, of course.

Do you guys have any way of describing the Visionquest sound, both as a collective and as a label?
Seth used to play the underground-pop card—but that was more his idea than the idea of all of us. Regarding the label, the idea that we all shared was to put out music that needed to be heard, but that also was from people we had a genuine relationship with—people that we enjoyed being around and who we thought of as friends. And that's the way it's worked out, I think; the music has been diverse, but it's from people who we consider to be family.

And that's the general plan going forward as well?
Moving into 2014, we're still going to have that sense of family, but I think the pop is going out the window. We want to move it back more to straight dance music.

Any specific examples?
One thing that we have coming up is this Visionquest Special Edition, which will be a three-record, vinyl-only release. It will be remixes of this folk album that we were going to release until we realized we had no way to market it. We've got remixes from Ricardo Villalobos and Shaun Reeves, Herbert, Agoria, myself, Mirko Loko, Craig Richards and some other people.

Nice lineup!
Yeah, it's gonna be cool. We've already got those mastered. After that, we're doing another vinyl-only thing that'll be really deep, dub techno.

That covers the label, but what about you guys personally?
Our sound really depends on the environment that we play and who we're playing with. But when we have the whole night to ourselves, like we will in the main room at Output, we'll start out with ambient music that's maybe a little bit dark; then Lee might come in and go a bit more disco-housey; after that, Shaun and I could play techno and tech-house; then Seth might come on and do his thing; and finally, we'll all be playing together.

This current tour is almost at an end—are there plans for another tour in 2014?
Actually, we'll be cutting down a little for the near future, at least as far as how many shows we'll be doing together. I mean, we're going to do plenty of showcases next year, ones where we'll be bringing in other talent to join us. But we'll be pulling it back a little bit, and just make sure every one is like, Phew!

How about those Super Pleasures label showcases you've been doing—will they continue?
Yeah, we'll be doing a bunch of them. We'll be doing one of them at BPM [the annual early-January festival held in Playa del Carmen, Mexico] to kick off the year, which is going to be really solid—it's with Dan Bell, Matthew Dear, and me and Shaun and Lee.

That's a big chunk of the Detroit mafia.
That's exactly what we thought! We didn't say those exact words, though. It was more like, Yeah, let's do a Detroit party. Dan Bell is like the missing link in the whole thing; we're so happy that he'll be coming down.

Circling back to Visionquest 13, I would say that it never hurts to be ambitious.
Every tour has bumps along the way. But if we hadn't really gone for it—if we hadn't reached so far—we wouldn't have learned as much as we did. You can't know everything about something you've never done before, and I'm happy that things worked out the way they did. Otherwise, we wouldn't be prepared for what we want to do next.

Which is what?
To go even bigger!

Visionquest + Wolf+Lamb + Nick Monaco is at Output Friday, November 22.
Follow Bruce Tantum on Twitter: @BruceTantum
---