Moms review comics' memoirs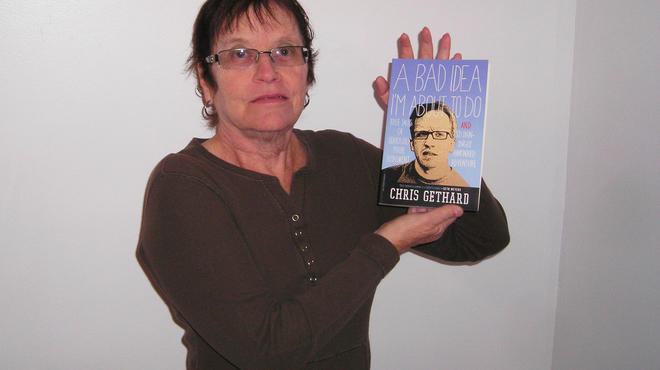 Sally Gethard Photograph: Courtesy of Sally Ge

A Bad Idea I'm About to Do by Chris Gethard (Da Capo Press, $16)
Reviewed by Sally Gethard

How did you feel when you first picked up Chris's book?
My eyes filled with tears when he handed it to me. I felt so happy and proud of him.

Which part made you laugh hardest and why?
I think the story about his grandfather [tricking Chris by pretending to murder what was actually a] stuffed skunk. I can still picture it so vividly. We all laughed so hard at the expression on Chris's face!

Which part do you kind of wish weren't in there?
There were a couple…but I think the one about the six red bumps [which cause a herpes scare] could have stayed private.

What's not in the book that you'd want to scribble in the margins for readers to see?
How kind and loving Chris is. Don't get me wrong, he's not perfect—but if Chris is your friend, he will always be there for you, no matter what.

Which part made you proudest of Chris while you were reading?
It was hard for me to read what he went through concerning being bipolar, but the fact that he spoke openly about it was very meaningful. If it helps even one kid realize that you can get help and come out all right on the other end, then the book is a great success.

Any advice for Chris about writing his next memoir?
Just to keep finding the humor in things that happen—and remember that your parents will be reading the book.