PFFR's John Lee and Vernon Chatman get puke on your windshield with The Heart, She Holler
The Delocated and Wonder Showzen duo talks about season two of The Heart, She Holler, Patton Oswalt's perfect idiocy and scarring Heather Lawless.
By Matthew Love Wed Sep 4 2013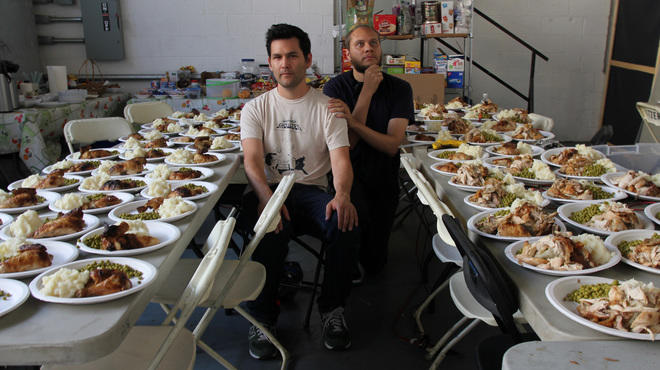 John Lee, Vernon Chatman and chicken dinners Photograph: Brian Tischer

Art collective and production company PFFR has a track record of creating shows (Wonder Showzen; Xavier, Renegade Angel) stuffed with rapid-fire gags and revered by lovers of bizarro, button-pushing humor. While producing and directing Jon Glaser's Delocated for Adult Swim, PFFR's John Lee and Vernon Chatman created their own AS vehicle, The Heart, She Holler, starring Patton Oswalt, Heather Lawless and Amy Sedaris (who stepped in for Kristen Schaal after season one). With the second season of the fantastically surreal, David Lynch–influenced soap opera premiering Tuesday 10, Lee and others will be at Nitehawk Cinema Thursday 5 to show clips and answer questions.

Time Out New York: What drew you to the Southern Gothic sensibility of The Heart, She Holler?
Vernon Chatman: There's a haunted house on America's property.
John Lee: It's true: America is built on a haunted Indian burial ground, so why wouldn't we be haunted by our miserable life constantly? And in general, it's not just Southern Gothic—all nightmares are embraced by us. Nightmares that speak to some kind of truth last longer than, say, two people talking in a café.

Time Out New York: John, you've said you see the show as "fart drama"—as opposed to "fart comedy."
Vernon Chatman: It's much more interesting if a fart has psychosexual implications. A result of some inner spiritual turmoil.
John Lee: That's really what a fart is.
Vernon Chatman: It's that scrim between spirit and body, screaming out—
John Lee: To be loved.
Vernon Chatman: To be loved and sniffed.

Time Out New York: If The Heart, She Holler is some kind of drama, how much harder do you work on the stakes of the story than the comedy?
Vernon Chatman: We spend two thirds of the time working on a structure, and then a third slapping it together with the mud of crude jokes, so a wall of undeniable brilliance has been put together with shit.
John Lee: We take a lot of time making a nice structure like, say, a cake. And then we smear that cake with a thin layer of poo humor.
Vernon Chatman: But the cake is so delicious, you're like, I'm just going to eat around it.
John Lee: But by the time you've eaten around it, you're full of the icing.
Vernon Chatman: We don't need that old saw that just one log of shit on top of a cake ruins the whole cake. That can't be true.

Time Out New York: When do you know you've gone too far with the gross jokes?
John Lee: One man's joke is another man's disgusting. That's hard to tell.
Vernon Chatman: One man's joke is another man's puke on their windshield in which we scrape the word fart with a turd.

Time Out New York: When do you get concerned there's too much puke on the windshield, so to speak, and your audience can't relate?
John Lee: You always know when it's the right amount on someone else's windshield.
Vernon Chatman: The right amount on our windshield is none. Get that shit away. The right amount on everyone else's windshield is: Keep it flowin'.