Time Out Live, our New York Comedy Festival Show, stars…
By Matthew Love Wed Oct 30 2013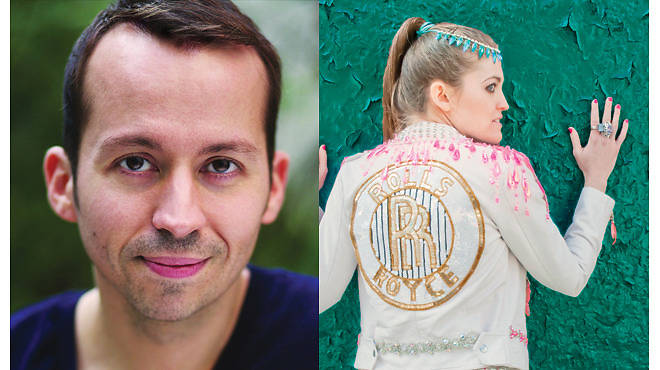 David Crabb, Erin Markey Photographs: from left: Julia Gillard; Amos Mac
David Crabb

Who he is: A cheery, endearing storyteller whose yarns encompass his awkward adolescence and years of strange encounters in NYC

What he does: Tells memorable tales at shows such as RISK!; hosts Moth StorySLAMs—and has won two himself; produces his own series, Ask Me Stories; chronicled life as a gay, goth Texan teen in his solo show Bad Kid.

Why we love him: Though Crabb's stories have polish, they're deeply felt and inevitably reveal his kindly, humanistic tendencies. Whether he's animating the world of a scared tween shoplifter, a fabulous Cousin Itt–like best friend or his good ol' boy of a father, he brings his dramatis personae to life with carefully chosen words and more than a touch of theatrical flair.
Erin Markey

Who she is: An actor, writer and creative cabaret performer whose jaw-dropping demons are unleashed onstage

What she does: Creates her own character pieces for downtown theaters such as P.S. 122; has a recurring solo cabaret show at Joe's Pub with Kenny Mellman; kicked out jams by Justin Bieber and Celine Dion at pop-song pageant Our Hit Parade.

Why we love her: Markey's potent performances uproot and expose a dark, saucy and unstoppable id for all to see. And though she channels remarkable monsters while singing, say, Usher's "Hey Daddy (Daddy's Home)," she is also unabashed in her willingness to get silly and personify a pillow. Audiences, for their part, walk away suitably stunned and giddy.

Time Out Live happens at the UCBEast on Nov 7. Get tickets at east.ucbtheatre.com.
You might also like
---
Comedy events calendar
The smooth and delightfully understated Hannibal B...

Me, My Mouth & I. Cherry Lane Theatre (see Off Bro...

50 Shades! The Musical—The Original Parody. Elektr...
7

more events »
@TimeOutNewYork
Subscribe to Time Out New York on Spotify for playlists and recommendations from our Music team.


Check out New York's best restaurants, hottest street style, cool apartments and more.