Julie Worden
The Mark Morris dancer performs L'Allegro.
By Gia Kourlas Mon Aug 2 2010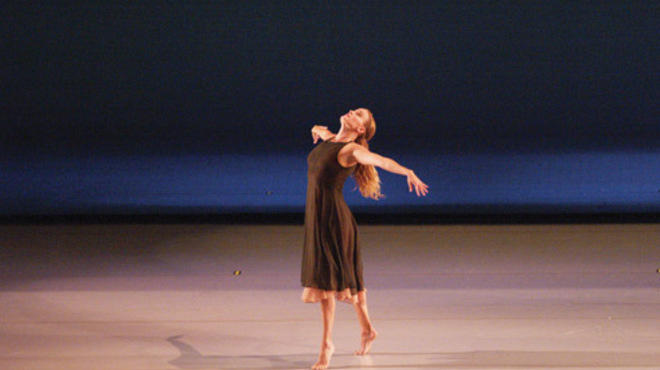 SPREAD YOUR WINGS Worden performs L'Allegro
Julie Worden dances with such sculptural depth and purity that what she leaves behind is a rare sort of unaffected grace. This weekend as part of Mostly Mozart, Worden appears with the Mark Morris Dance Group, of which she has been a member since 1994, in Handel's L'Allegro, Il Penseroso ed Il Moderato at the David H. Koch Theater. The masterpiece was choreographed by Morris in 1988; to date, Worden, a graduate of the North Carolina School of the Arts, has performed the dance 103 times in 17 cities. Just as the production is one of the most transformative meldings of music and dance, Worden is one of its most transfixing interpreters. She discussed her career—which began at the age of four in Naples, Florida—at the company's Brooklyn dance center.
Why did you start dancing?
Every little girl went to dance class. You ended up dancing in the swamp-buggy parade and at the mall and in elderly homes and at the Moose Lodge. We danced everywhere in town, as much as we could.
What's a swamp-buggy parade?
[Laughs] Swamp buggies are these really strange vehicles that don't go too deep into the muck, so you can travel through the Everglades. It's kind of a redneck thing; they celebrate the design of each of them. It's a nighttime parade and somehow they added dancers to it. A very local scene.
When did you start enjoying dance?
I really got into it when I was 9, and that's when I started doing more jazz and tap. I felt there was a lot of freedom to express myself. I was never big on the formal structure of ballet, although I took it. Then I sort of got addicted. I was deadly shy as a kid, so it was a way that I could express myself without having to talk to people. Then I kind of fell into it more, almost as an escape route. Naples is a pretty conservative town; I found a way to communicate without words. I wasn't really that social. My mom would drive me to Miami, across the Everglades, to take more serious classes, and at that point I was pretty certain. I actually had two knee surgeries when I was 12.
You're kidding!
No. My orthopedist was like, "That's it. Get another hobby. This is stupid." He was also a very conservative surgeon, and so I think part of him saying that made me really push to go, Wait a minute—you don't realize this is my passion. I love this. I can't just drop it and pick up some other thing. So I really was determined to be strong enough to pull it off. With my family's help I could get the kind of PT [physical therapy] to keep pursuing it and get more serious.
What happened to your knee?
I basically had bad bone alignment, and dancing on pavement in tap shoes—it just added up to overuse, which is crazy for a 12-year-old, but my legs were all bent out of shape. Through dancing I've actually learned a lot about how to straighten them out.
What kind of surgery did you have?
It was arthroscopic. As a kid, you can bounce back, and in a month, I was dancing again. When you get a limitation, it's almost like a kick in the ass. My mom helped me [to be able to take] classes in Miami, but then I was ready to move on and that's when I went to high school in North Carolina.
Did you audition for North Carolina School of the Arts?
I auditioned in ballet. Failed miserably. Thank God. It's not what I wanted to do but I had seen ABT [American Ballet Theatre] for years and those were Misha [Baryshnikov]'s great years in the '80s. I was really gung-ho to do that. And luckily my body wasn't natural for it, so I found my way into modern. They accepted me early—I was young for the program, but they allowed me to come in at 14. There were people in my class who were 35; it was very disparate, but because of that we all helped each other have a new perspective.
Were you there with [former Merce Cunningham dancer] Glen Rumsey?
Yes! He was my partner of choice. I choreographed with him. We used to have the same body back then. [Laughs] Jeannie Steele [of Cunningham] was around my time. Heather Berest from Paul Taylor.
It's an important school for dance.
Yeah. I don't know what it's like now because of the two Dicks being gone [Richard Kuch, assistant dean of the dance department, and Richard Gain, a dance teacher]; people had conflicts with them, but I really learned so much. They tore people to bits, and I have some conflicts with the way they carried things out, but there were some things that were amazingly—you were just stuck out there. We had bikini class. I don't know if you've ever heard about this.
No.
They were based in Graham technique and in winter term they would make the first-year students do the whole Graham class in a bikini so you could see every little detail and your vanity would take over as to how you would fix things yourself. So people have had some conflict with that over the years. There was lot of squeaking going on—all the floorwork and the skin! But you were sort of forced into, Oh. I don't like that. I'm going to change that. So they had very extreme measures, but they worked for me. I like to work hard.
Was it difficult for you to leave home at 14?
For the first week—and then I was ecstatic. I'm still really close friends with my parents because I did all of my experimentation outside the house. When I'd come home, I couldn't wait to spend time with them. So during all the kind of yucky, teenage rebellious years I was busy throwing that into dance and doing that in another state. I grew up fast.
And not just in life, but your training was probably drastically different for you in North Carolina.
Yeah. Everything—life responsibilities are quickly thrown into your own decision making.
Had you studied any modern dance before?
A tiny bit, but I would say it was mostly jazz, ballet and tap.