Julie Worden
The Mark Morris dancer performs L'Allegro.
By Gia Kourlas Mon Aug 2 2010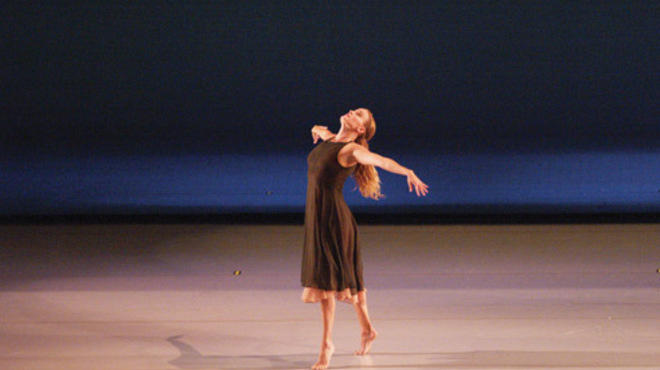 SPREAD YOUR WINGS Worden performs L'Allegro
What about The Hard Nut, which will be at the Brooklyn Academy of Music in December. You play the sister in the first act?
Yes. I have a blast with that. Again, I really like the theatrical roles. It's a personality that is really unlikeable. Is there a theme with that? But it's fun to play a part so obnoxiously. To take it to the extreme. And that one is such a parody; the comedy aspects are really fun and as long as you're completely brash and out there—he very rarely pulls you back from that one. I really get to be cartoonish, and we all like to play something that's not in our normal personalities, to play up a certain level of sickness. Tina Fehlandt did it originally.
Did she teach you the part?
She was around. Mark coaches whether you're going the right direction or not. So they both did.
How do you make that one your own?
You have to keep trying new things. If I do, say, the party scene in a similar way two times in a row, I think I've failed. So it's to be open to what other people are doing with you and to not set any real planned reaction. There are certain choreographed jokes, but if you plan your reactions, it's not believable.
It's gross.
And it feels gross. It's more fascinating—and way more scary—because sometimes you try things and they don't work. [Laughs] As long as I'm testing out new things, I feel like I'm still doing well.
Mark is still in that, right?
Yeah. I have a lot of stuff with him, which is great. It also means that he trusts me. He doesn't trust everybody so intimately. He makes jokes onstage that just crack us up and it's a real celebration. It looks like we're having a good time, but we actually are. [Laughs]
What is your relationship like with Mark Morris as a boss, and how has it changed over the years? Or is there not so much separation?
There isn't, and that's how it's changed. He's definitely my friend. When I've been injured, he sent me books. He told me to just get better. There wasn't any pressure from him. We cook together, for each other, and have real respect for each other in that aspect of life. I've been to India with him twice. One time he went on a grant and I just tagged along and the second time, he sent me to Nrityagram [Dance Ensemble of India]—it's like a women's commune dance company where they grow their own vegetables, and he sent me there to do some teaching and to cook for them and to talk about art and to commiserate as a female artist from the states. [Dancer] Rita Donohue went with me, too. He exposed me to a completely other part of the world. And then had the respect for me to send me to work with them. It was not an exchange; the guru was having some hip injuries and so he said, "Show her what you know," and I have a bible of exercises from being injured at a young age, and she was like, "So you will teach it to our class in the morning?" and I was like, "What? I don't teach." I pulled some of the stuff that I've learned out of my back pocket and she was very conducive to learning it and said it helped her a lot. We mostly talked about art, and I cooked.
When did you start cooking?
My mom is a great cook. I learned from her and started cooking slowly when I moved to New York, but it's become a passion. I spend most of my time thinking about the next meal. I've learned from Mark, because he is an incredible cook and has ways of resourcing stuff—I think I've learned that from him. Like if you have one little chicken bone and this piece of cheese and this egg—to have the faith in your self to experiment. I don't use recipes that much anymore. I mess them up. He sent me to the village and said, "Cook Christmas dinner," so I told them, "I'm cooking Christmas dinner," and one of the older Indian women was laughing, like, What is this white woman expecting to do with our vegetables? I had to use what was there—I was looking at things that I didn't know how to cook, and I had to do it! Mark asked me to make Christmas dinner. They liked it, thank God. It was terribly strenuous. I made a cake and I was fluffing egg whites with two forks—it must have taken me 30 minutes. [Laughs] It was great to feel that perspective of cooking. We all get spoiled.
Does Mark come down hard on you in the studio?
Yeah.
How do you handle that?
I'm not one to show much of my frustration in the studio, although I did snap at him one time. It had to do with weight; there were littler men trying to lift me and he was making a sarcastic remark like, "She's not that fat" or "she's not that big." He tends to like [to pair] big women and small men and it's a pet peeve of ours. So if he gets in there with that sort of thing I get really sensitive. But I usually keep it to myself and try to sort it out later and I realized if he's so hard on somebody it's usually because he sees a way of them doing it well. That means he has hope for you. If he's not hard on you it might mean that he's given up; that's the only way I can balance it out over the years. Sometimes, like in L'Allegro, I've been doing the piece for so long and he might change his mind about something or make me feel like I'm sabotaging the piece, although this is something about our relationship: He knows that I love his work. He has a trust in me. When he makes you feel like you're sabotaging the work, that's really upsetting because he knows that you want to do it the way he wants it. I don't have a better idea or something. If he keeps changing his mind, I just have to know that if he's not hard on me, it means he's stopped caring. [Laughs]
Why can dancers stay in this company for a long time?
Because of the variety and styles and the fact that we have live music—we get to have a real relationship to dynamic and tempo with live musicians and singers. There are so many musical terms that I've learned. The actual physical movement is less damaging than some. He doesn't like to do things that are dangerous for our health just for effect. It's a little easier on your joints, and through his technique class he's actually really smart about teaching alignment.
Is it ballet technique?
Now it is. Back in 1989, he had all kinds of crazy modern classes that he taught, but it's now strictly ballet. It was an absolutely gradual shift. Since I've been working for him professionally he hasn't taught a modern class as a company class. I miss it. I think he should, but that's not my business.
What are you interested in? You don't want to teach, do you?
No, I don't. I would like to try something else.
Like what?
That's a giant hole. Anything from scuba diving to cooking to music, but I didn't go to college, so I have to start from square one.
Do you think about how much longer you will dance?
Yeah. I think I have a little bit more in me. I also have to weigh when to leave in order to have the chance for something else. This is the only thing I've ever done. I definitely want to leave in time to have faith that I have the concentration to learn something else. I think the older I get, the more difficult it's going to be to learn a new trade. I have to weigh that out with the aches and pains and the passion.