Savion Glover [slide show]
Savion Glover returns to the Joyce Theater with a new evening of tap
Photograph: Elyssa Goodman
Tap wizard Savion Glover sets out to entertain in "STePz," a premiere at the Joyce Theater
Tap dancer Marshall Davis Jr. talks about dancing for Savion Glover at the Joyce Theater.
Ursula Eagly talks about her new Chocolate Factory dance, Self Made Man Man Made Land.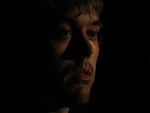 Director Brian Rogers and dancer Madeline Best discuss Hot Box, a new piece for the Chocolate Factory.
Find event listings for the New York City Ballet and read interviews with NYCB principals, soloists, ballerinas, dancers and choreographers.
---