Trajal Harrell
The choreographer merges voguing and postmodern dance in his latest homage to the runway.
By Gia Kourlas Tue Sep 22 2009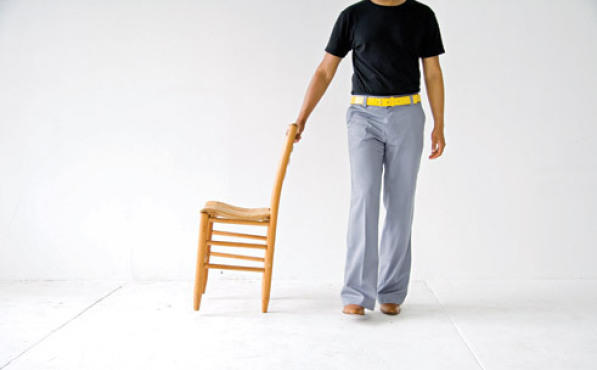 VIEWMASTER Trajal Harrell works it. MIANA GRAFALS
Trajal Harrell's most recent show, Quartet for the End of Time, had its premiere last October, right when the financial world seemed to be facing the end of time. "In my mind," he said with a giggle, "it was the best show I ever made. But it went up in the middle of the financial crisis, so no one came to see it."
Almost true, but not exactly; one curator unfamiliar with his work came and was perplexed, particularly by the inclusion of a slide show of a Calvin Klein fashion show. "He said that he thought, What does this have to do with anything?" Harrell recalls. "For people who have seen my work develop in New York, they have a much better sense of the layers. If you strip down Quartet, in some ways it still is a fashion show. All people do is come onstage and clothe and undress, and if you haven't seen the work develop, you don't see all these things that I've been developing with the aesthetic of cool—with voguing and with postmodern dance. So I realized, Okay, there are some people who don't see the layers. I wanted to go back to basics."
In Twenty Looks or Paris is Burning at the Judson Church, Harrell has created a series of dances that come in five sizes: extra small, (XS), through extra large, (XL). As part of the Crossing the Line festival, Harrell will present the (S) version of his collection at the New Museum, in a copresentation with Danspace Project. The production poses an intriguing question: What would have happened if someone from Harlem's voguing scene performed alongside the early postmoderns at Judson Church in 1963?
For the past several years, Harrell has worked intently on bringing postmodern dance and voguing together, using the runway as their architectural meeting point. "But for me, that was this bottom layer that I started with," he says. "What happens if I do a piece about this bottom layer? I never want to do historical fiction. I don't want to re-create 1963! That's not my thing."
Inspired by both the struggle to tour Quartet when few had seen it (he is hoping take it to France next year) and a David Hammons piece in which the artist sold snowballs to Harlem passersby, Harrell decided to approach his new work as an opportunity to sell. Over the next few years, Harrell will unveil five different versions of the piece with the same title—though, it should be noted, (L), is not available. "We're sold out of larges," he said wryly. "If someone really really wants one, maybe we can find one for the right price, but we have none left."
(M) will be presented at the Kitchen in 2010 or 2011; at present, however, he isn't quite sure about (XL). "Those won't necessarily be stage performances," Harrell says. "One will be digital and may come out this fall. I'm working on all the pieces simultaneously."
Harrell notes the differences between the postmodern period of Judson Dance Theater, which embraced pedestrian movement and a discernible lack of spectacle, and voguing, which is entirely about precision and glamour. "In Judson, it was very much about the antiseduction of the audience, and I feel now this is something that, in dance, is a real problem," he says. "A lot of work thinks of itself as conceptual, but people are bored in the audience. And the problem is that boringness is interesting to a certain degree, but at a certain point it's not interesting at all." He added, "I'm really interested in once again seducing the audience."
In the piece, which has turned into a portrait of himself, Harrell is owning the runway as his signature. "Of course, people have used fashion before in dance, but I don't know if anyone had taken it as seriously as I took it. In 2001, people really were antifashion in New York in dance. We all walk around in clothes—it shapes culture, it shapes the body. When I first started this, people didn't see how it could be serious. And for me, it was such a no-brainer. I didn't pay attention. I kept marching on."
Trajal Harrell is at the New Museum Oct 1 and 2.
Something in the way they move
For Trajal Harrell, fashion is about women's lives and looking at women's bodies in terms of what they wear and how they carry themselves. Below are his lists of his favorite models, designers—in terms of their fashion shows—and, of course, dancers.
Models
Pat Cleveland
Giselle Bndchen
Carmen Kass
Alek Wek
Mariacarla Boscono
Karolna Kurkov
Naomi Campbell
Designers' shows
Chanel
Marc Jacobs
John Galliano
Alexander McQueen
Hussein Chalayan
Tom Ford (when he was designing Gucci)
Calvin Klein (especially when Klein was still in charge)
Dancers
Bostjan Antoncic (Rosas)
Stephen Galloway
Sarah Michelson
Ruth Amarante (Tanztheater Wuppertal Pina Bausch)
Lucinda Childs
Foofwa d'Imobilit and Thomas Caley (when they were dancing with Cunningham)
Sarita Allen
The cast in the original movie Fame, including Debbie Allen