Film
Movie reviews and film trailers, plus the latest film releases and movie theater listings. Buy tickets for your nearest movie theater and discover the best movies to watch
Get on Up review

The 15 most epic surf movies

Guardians of the Galaxy review

Movies in the park

Best and worst Woody Allen films
---
---
A low-key domestic drama from mumblecore staple Joe Swanberg blurs the divide between modest and inconsequential.
Outspoken Nigerian musician Fela Kuti led a vibrant life, one that filmmaker Alex Gibney lays out in too-plain fashion.
Barreling toward its rapidly modernizing future, China takes Internet addiction more seriously than most nations.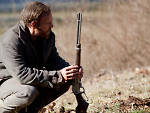 Restless metastar James Franco takes on Cormac McCarthy's backwoods-gothic novel about a mentally ill serial killer.
See more new movie releases
---
---
---
Explore film-making classes in NYC
U.S. weekend box office report