Jared Leto interview: "I lived with a man dying of AIDS"
The Dallas Buyers Club star on playing a transsexual called Rayon opposite Matthew McConaughey
By Cath Clarke Thu Feb 6 2014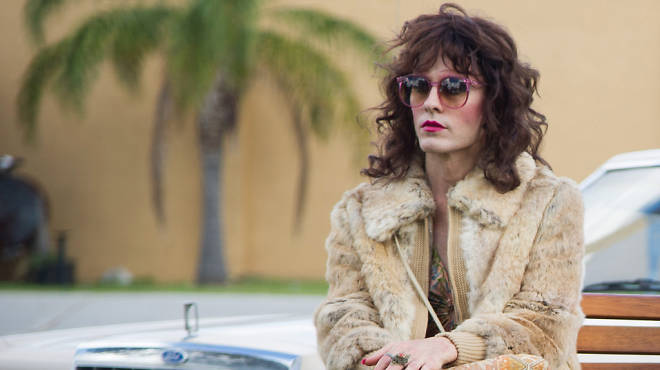 Jared Leto lost over 30 pounds to play Rayon, a transsexual drug addict with HIV in Dallas Buyers Club. Funny and sad, his performance will touch your heart and has earned him an Oscar nomination. It's not the first time the onetime My So-Called Life star has pushed his body to the limits. The 42-year-old dropped 24 pounds for Requiem for a Dream and grew to nearly 224 pounds to play John Lennon's killer in Chapter 27.

Despite being scarily skeletal as Rayon, Leto makes a surprisingly pretty woman. Does he agree? "No! I don't think if I was walking down the street anyone would be going 'Look at that hot chick.'" But the actor, who is also frontman of the band 30 Seconds to Mars, clearly prepared well for the role. So how did he do it?
He flirted with the director
"It wasn't an audition. But I had a meeting with the director over Skype. I said hello and reached over, grabbed lipstick and put it on. His jaw dropped. I unbuttoned my jacket, and underneath I had on a little pink fuzzy sweater. I proceeded to flirt with him for 20 minutes."
He fell in love with his character
"What's not to love about Rayon? HIV… drug addict… dying of AIDS… transgendered… She is a beautiful creature. All of which is why I wanted to protect the character. A lot of people would have just embraced the camp, the cliché, the stereotype."
He remembered the AIDS crisis
"When I moved to LA, I rented a room in a three-bedroom apartment and lived with a man in his forties dying of AIDS. I watched week after week as he withered away. He had a lot of grace and charm. So there must be some of him in Rayon. That was in the early '90s, when AIDS was still a death sentence."
He stopped counting how much weight he was losing
"How did I do it? I just stopped eating. I got down to about [112 pounds]. It's painful. And it's scary. You're heart is beating a little too fast and hard. I looked like I was dying. But gaining weight for a role is harder. You start every meal basically throwing up in your mouth already."
The best films now showing
Rated as: 4/5
Critics choice
Jennifer Lawrence goes impressively fierce for this penultimate chapter.
Rated as: 4/5
Critics choice
Director Amir Bar-Lev diagnoses the collective mentality of State College, Pennsylvania, a town so in love with football and local hero Joe Paterno, it lost sight of morality.
Rated as: 5/5
Critics choice
Regarded as a classic in France (and a known influence on Japan's Studio Ghibli), this sprightly 1980 animated film deserves a cult here.
See more Time Out film reviews