Museum of the Moving Image: A guide to the attraction
A complete guide to the Museum of the Moving Image: Find ticketing information and current exhibits. Plus: The best things to do nearby.
Only 15 minutes from midtown, the Museum of the Moving Image is one of the city's most dynamic institutions. Rubbing elbows with Kaufman Astoria Studios, it includes a three-story extension that features a state-of-the-art 264-seat cinema and expanded gallery spaces. Meanwhile, the museum's "Behind the Screen" exhibit examines every step of the filmmaking process, with artifacts from more than 1,000 different productions, and 14 classic (playable!) video games, including Asteroids, Ms. Pac-Man and Space Invaders.
---
Photograph: Caroline Voagen Nelson
Museum of the Moving Image
Museum of the Moving Image venue and ticketing information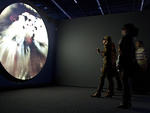 Price band: 2/4
Critics choice
Only 15 minutes from midtown, the Museum of the Moving Image is one of the city's most dynamic institutions. Rubbing elbows with Kaufman Astoria Studios, it includes a three-story extension that features a state-of-the-art 264-seat cinema and expanded gallery spaces. Meanwhile, the museum's
36-01 35th Ave, (at 37th St), 11106
More info
---
---
Museums and attractions near the Museum of the Moving Image
---
---
---
---
---
---
Related Museum of the Moving Image coverage
---
---