Peaches
The woman who gave the world "Fuck the Pain Away" presents her oddest show yet.
By Jay Ruttenberg Mon Dec 6 2010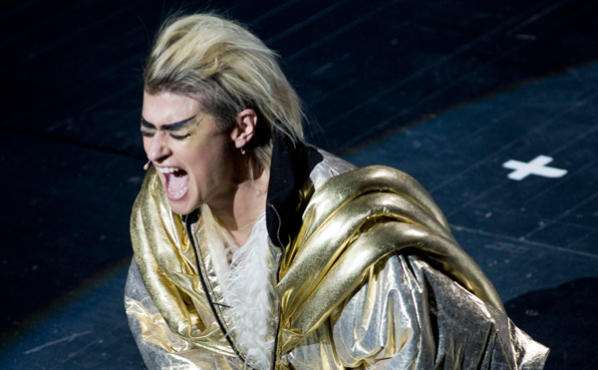 PEACHES H. CHRIST! Yes, Peaches is crooning Jesus Christ Superstar backed only by piano. Photograph: Holger Talinski
Years before she ripened into a scantily clad provocateur spewing carnal commands in itsy hot pants, Peaches was Merrill Beth Nisker: Hebrew day-school student, Toronto theater kid. "We had Fiddler on the Roof in the house and every fucking Barbra Streisand and Neil Diamond album in the world," she recalls. "But Jesus Christ Superstar was just not there. 'Cause, you know... Well, it's obvious why."
Some teenagers find Jesus Christ; Peaches became a convert to the slightly more garish Jesus Christ Superstar. "A friend gave me the album when I was 14 or 15," Peaches says. "I became totally obsessed with it. If I had heard it later in life, I probably would have laughed. But I didn't find it kitschy at all—I just found it really powerful. I would perform the whole thing alone [around the house]."
Decades on, the musician found herself meeting with representatives from an old gothic theater in her adopted hometown, Berlin. Asked to pitch a production, she suggested a one-woman show: Peaches Christ Superstar. "I figured they would laugh at me," she recounts. "Instead, they said, 'Sure—let's do it.' This idea that I'd had in my head since I was 15 suddenly became a scary reality."
And so, in a career that has brought forth underground stripper anthems, luscious fake facial hair, collaborations with Iggy Pop and Christina Aguilera, and—let us now bow our heads—the term fatherfucker, Peaches finds herself presenting her strangest recital to date. This weekend, in a pair of New York stops as part of a short tour, she sings Jesus Christ Superstar, accompanied only by the piano of longtime collaborator Chilly Gonzales.
On the surface, the concert marks an extraordinary detour for Peaches, who is known for spewing out her own foulmouthed compositions over crude electro beats—a touch different from crooning show tunes with a pianist. Yet her raw approach to the work accords with the minimalism that has long steered her strongest material. "Jesus Christ Superstar is a hippie thing, so there are guitar solos, organs and fancy drum fills," says Gonzales, who was tasked with reworking the score. "It's very busy—which is not good for Peaches. Reduction is her superpower. Everyone else puts so much effort into details; her details are few but stand out, because everything around her is so [minimal]."
The American Superstar concerts cap a landmark year for both Peaches and Gonzales (a Paris-based Canadian who was born Jason Beck). Peaches created a laser-light concert, an opera (Peaches Does Herself) and a new tour featuring a Peaches impersonator. Gonzales—a self-proclaimed "musical genius" who last year broke a Guinness World Record by performing a 27-hour recital—released a terrific album, Ivory Tower, along with a companion film that costarred Peaches in a convincing dramatic turn. As with Superstar, the acting role revealed a more-conventional dimension to the artist's talent. "Peaches pushes so many sexual taboo buttons at her regular show, and it's a lot of fun," Gonzales says. "But people are so taken with the identity of Peaches that they don't realize she's a very dramatic performer."
This perception nearly halted the Berlin Superstar debut. "The German affiliates found out what I was doing," Peaches explains. "They were just like, 'No, no, no! First of all: Peaches doing that? That's ridiculous. And it's not a big production. Where are the dance numbers? The costumes? The money?'"
Undaunted, the singer pleaded her case on Twitter. Tim Rice—the man behind the words "Jesus Christ superstar/Do you think you're what they say you are?"—caught wind of the bad press and urged the affiliates to relent. It was a decision that he did not come to regret. "I heard that Sir Tim Rice was in the audience," Peaches says. "I was like, 'Sure—so is Jesus.' But he was there. And he totally loved it."
The lyricist's admiration is not surprising: In a sense, this no-frills approach treats the score more reverently than the original production itself. "Look," Peaches says, "I love camp. I understand doing a big musical with humor and costumes. But this one is just better left with the intensity intact. Jesus Christ Superstar does not lend itself out to be a huge musical."
Peaches Christ Superstar is at the Concert Hall at the New York Society for Ethical Culture Sat 11 and Music Hall of Williamsburg Sun 12. Chilly Gonzales plays Joe's Pub Jan 14.
Buy music by Peaches on iTunes