Ten cabaret performers you need to see (slide show)
Here are ten unique nightclub artists who will move you, shock you and knock you for a loop.
By Adam Feldman Tue Oct 16 2012
Many of the top names in nightclub entertainment today are better known from their careers on Broadway (Patti LuPone, Betty Buckley, Christine Ebersole) or concert stages (Judy Collins, Bettye LaVette, Nellie McKay). But there are also performers whose artistry is uniquely tailored to the energy exchange of an intimate boîte. Here are ten of the very best. Remember their names and see them live when you can, because cabaret is a deeply local experience: You really do have to be there.
You might also like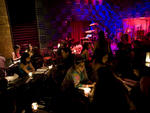 425 Lafayette St, (between Astor Pl and E 4th St)
More info
See more in Live music
---