Wye Oak
The Baltimore duo arrives in royal style at Beacon Theatre.
By Colin St. John Tue Jan 18 2011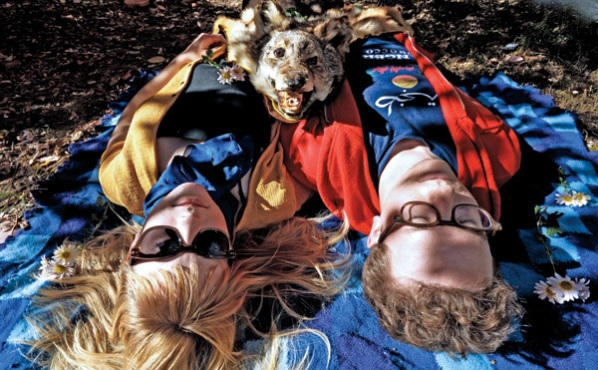 Photograph: Natasha Tylea
Beacon Theatre; Mon 24--Wed 26
Even if you believe that the overly literary geekdom of Colin Meloy and his Decemberists should be, ahem, cast away and cut out, props to the bespectacled bro for taste in opening acts. The title of the Decemberists' latest record, The King Is Dead, might prove prophetic as the group arrives at the Beacon Theatre this week, with King Meloy ceding ground to a queen of sorts, Jenn Wasner.
One half of the Baltimore duo Wye Oak, Wasner is a force of nature as singer. (She also plays guitar; Andy Stack handles drums, keys and backing vocals.) The band's namesake—a Maryland white oak tree (RIP) once the largest in the country—is an apt metaphor for its expansiveness. The Knot, Wye Oak's second record, is a 2009 gem filled with soaring, ruminative epics and elegies. "Mary Is Mary" showcases Wasner's meditative croon; shedding light on the group's shadier spots, "Siamese" is frighteningly honest—"I'm so ready to die tonight," Wasner sings.
Civilian, a third album, is due in March. It's more compact than The Knot, and therefore more combustible. The title track features the group's characteristic polarization: a lilt before the boom. There's more pop here (as in "The Alter"), but much that is exemplary of Wye Oak: "We Were Wealth" has a pensive mood that closes in a romp. It will be a treat to hear Wasner's voice soar up to the Beacon's ceiling and back down again.
Buy music by Wye Oak on iTunes