Restaurant and bar openings: September 19-25, 2013
Marco's, Play and more launch in New York City.
By Christina Izzo and Patty Lee Mon Sep 16 2013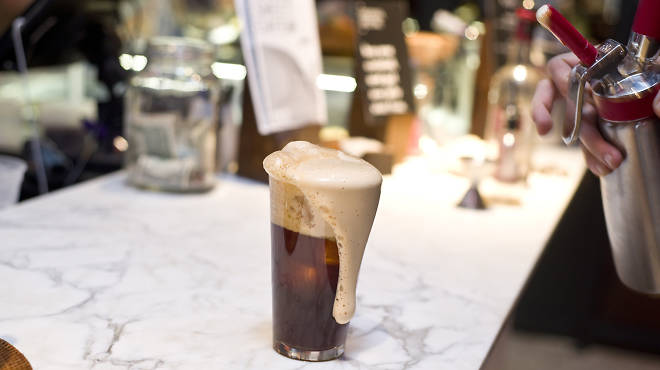 The Brewed and Stormy at Play Photograph: Alex Strada
The following venues are expected to open by September 25th. Always call ahead, as openings can be delayed.
B.B.R. Tucked beneath Rye restaurant—the acronym stands for "Bar Below Rye"—this 45-seat subterranean saloon is kitted out with wooden planks to resemble a ship's hull, an allusion to the longshoremen in chef-owner Cal Elliott's family. Dram owner Tom Chadwick runs the beverage program, with cocktails like the Diablero (tequila, Cocchi Americano, lemon, raspberries and Tiki bitters) and the Coco Rosie, a piña colada–meets–dark-and-stormy. The beer list features brews on tap (Bitburger, Flying Dog), and vintage bottles—salvaged from when the space was a 1920s members-only club—line the back bar. To accompany the booze, Elliott dispatches casual plates: Scotch eggs, crab croquettes and smoked-pork-belly sandwiches. 247 South 1st St between Havemeyer and Roebling Sts, Williamsburg, Brooklyn (718-218-8047)
Bluestone Lane Coffee Perk up with a flat white at this ten-seat café, the second location of the Aussie-themed java joint. Along with Sightglass coffee, find pastries from local bakeries (Balthazar, Bondi Bikkies) and toasts topped with almond butter, honey or Vegemite. 30 Broad St between Beaver St and Exchange Pl (no phone yet)
The Cecil Harlem chef Alexander Smalls debuts an Afro-Asian brasserie on his home turf. A collaboration with former Time Warner CEO Richard Parsons, the 140-seat eatery—decorated with red leather banquettes and globe pendant lamps—offers fusion dishes like a shrimp-and-chowchow burger and benne-seed-crusted ahi tuna. Cocktails created by Tim Cooper (Goldbar) incorporate influences from both continents, highlighting ingredients such as peanut, rooibos and jasmine. Also on offer: wines from Parsons's Tuscan vineyard. 210 W 118th St between Adam Clayton Powell Jr Blvd (Seventh Ave) and St. Nicholas Ave (212-866-1262)
Empire Biscuit Biscuits are the star at this 17-seat eatery in the East Village, outfitted with geometric arches. Using a recipe by famed Southern chef Edna Lewis, former Bouley waiters Jonathan Price and Yonadav Tsuna dole out rounds made with lard. Smother the flaky pastries in one of more than a dozen toppings like pork sausage gravy, house-made jams (rhubarb-and-pine, plum-and-pork) and compound butters (spiced candy pecan, goat-cheese-and-black-pepper). Fried-chicken and Scotch-egg fillings are also available for oversize versions. 198 Ave A between 12th and 13th Sts (no phone yet)
Joe & MissesDoe Husband-and-wife team Joe Dobias and Jill Schulster are behind this 26-seat comfort-food restaurant, outfitted with a retro traffic light and a red-and-white "Food & Drink" marquee sign. The menu includes old-line bites (deviled eggs, Ritz-topped macaroni and cheese) and zany updates: duck-confit tacos with garlic and radish, and French-dip dumplings with roast beef and mozzarella. On offer at the black-lacquered bar are craft beers (Lionshead Lager, Mother's Milk Stout) and cocktails like the Plantain Fire (tequila, lime and sriracha), the Muddy Puddle (bourbon, espresso and stout) and an oversize michelada for two. 45 E 1st St between First and Second Aves (212-780-0262)
Juke Bar Inspired by Southern juke joints—ramshackle music halls popular in the early 1900s—this subterranean East Village den hosts DJs spinning a different genre each night of the week. Retro knickknacks line the wood-clad space, including vintage signs and antique radios. Sidle up to the 12-seat bar for whiskey cocktails and classic Southern fare, including pulled pork, mac and cheese, and deviled eggs. 196 Second Ave between 12th and 13th Sts (212-228-7464)
Lucy's Whey Carnegie Hill Stock up on cheeses, charcuterie and craft beers at the beloved East Hampton curd shop's second Manhattan location. This Upper East Side storefront features an extensive selection of artisanal cheeses, including—for the first time—Europeans classics, and shoppers can pick up gourmet fruit jams, honeys and ice cream. In the evening, the 18-seat café transforms into a bar, pouring wines and American craft beers. 1417 Lexington Ave between 92nd and 93rd Sts (212-289-8900)
Marco's Bridging Greenmarket and brick oven, nouveau-pizza trailblazers Francine Stephens and Andrew Feinberg spearheaded Brooklyn's farm-to-table movement, opening the wildly popular Franny's in 2004. Nine years later, the couple debuts a follow-up: a classic Italian trattoria in the pizzeria's original space (don't worry, those clam pies moved only two blocks west). The wood-fired hearth has been replaced with a J&R rotisserie, from which chef Danny Amend (Franny's, Per Se) pulls rustic dishes, like rosemary-flecked pork loin with anchovies. Organized into four sections—antipasti, primi, secondi and contorni—the leather-bound menu focuses on hyperregional plates: Piedmontese zucchini en carpione (a wine-vinegar marinade); Lazio-style lamb chops zipped up with peppers; and tagliatelle with prosciutto di Parma, an Emilian specialty. At the marble bar, the all-Italian wine list highlights Tuscan varietals, and the cocktail menu offers prosecco-based aperitifs and classics (Negroni, Campari-and-soda). 295 Flatbush Ave between Prospect Pl and St. Marks Ave, Park Slope, Brooklyn (718-230-0427)
Orange Leaf Frozen Yogurt Sate your sweet tooth with more than 70 fro-yo flavors (chocolate mint, strawberry cheesecake) at this Upper West Side shop, the chain's fourth in New York City. Toppings include fruits (strawberries, blueberries) and assorted candies (peanut-butter cups, gummy bears). 526 Amsterdam Ave between 85th and 86th Sts (646-964-4363)
Play Steamy exhibits have you working up a thirst? The Museum of Sex added a three-way café-bar-lounge to its ground floor, featuring cocktails from veteran drinks-slinger Jim Kearns (Pegu Club, the NoMad). By day, find Balthazar pastries (black-pepper shortbread) and elevated sandwiches (Italian tuna loin) in the marble-walled Nice & Sweet café. After 6pm, the front bar turns from Viennese coffee to French bubbly, with glass doors opening onto a graphic-print lounge where drinkers can page through erotic sketchbooks. Along with lambic beers and biodynamic wines, the ebony bar is stocked with Kearn's creations—savory cocktails made with mushroom infusions, tomato water and fish sauce—and "artist-designed" quaffs: British food-art duo Bompas & Parr offers a No. 1 Foot Fetish cherry cocktail, featuring fruit stomped on by celebrities. Bar bites include East Coast oysters, meat skewers and crispy tempura. 1 E 27th St between Fifth and Madison Aves (212-447-7529)
Riverbank Grill Bask in expansive views of the Hudson River at this 240-seat beer garden in Riverbank State Park. At an umbrella-covered table on the patio, choose from 20 bottled brews (Blue Point Toasted Lager, Abita Purple Haze) and six beers on draft (Shock Top, Redhook Long Hammer). American fare like breaded fried pickles, chicken and waffles, and cheeseburgers are also on the menu. 679 Riverside Dr at 145th St (212-234-1023)
The Supply House Restaurateurs Ryan O'Flaherty and Robbie Gillin—of the Hamptons' Saltwater Grill and Pete's Park Place Tavern in Bronxville—pull hits from their other spots for this Upper East Side restaurant. The 70-seat joint—lined with reclaimed wood and tin—offers surf-and-turf options like fish tacos, lobster rolls and a coffee-crusted burger. To drink: beers from Northeastern breweries (Allagash, Whale's Tale). 1647 Second Ave between 85th and 86th Sts (no phone yet)
---