The ultimate Times Square eating and drinking guide
Browse our definitive manual of midtown's best restaurants and bars.
By Time Out editors Mon Apr 30 2012
Time Out, Photograph: Paul Wagtouicz
Love it or loathe it, Times Square is an essential part of the New York experience. Whether you're working in midtown, heading to the Theater District or catching a bus at Port Authority, the city has a way of pulling residents and visitors alike toward the bright lights of Broadway. Thankfully, there are fine places to eat and drink amid the gaudy chains and tourist traps—you just have to know where to look. Here, we round up the best new restaurants and bars around Times Square, plus the all-time classics you can count on in a pinch. Did we miss any of your favorites? Let us know about 'em in the comments.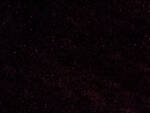 Hakkasan
Broadway has its share of imported blockbusters from London, but this one is more likely to court the high rollers than the culture vultures. The slick, spendy Cantonese chain—its Michelin-starred forebear has spawned outposts from Mumbai to Miami—feels right at home in Times Square with its theatrical, Westernized take on upscale Chinese food. Luxe ingredients anchor dishes such as the roasted silver cod dressed with champagne and Chinese honey, and a fat-cat–baiting Japanese abalone with black truffles (at a hefty $888). Still, expense-account–less diners can find some fine things to eat on the lower end of the price spectrum: The $28 steamed dim sum platter includes tender scallop shumai and delicate, freshly made dumplings stuffed with prawns and Chinese chives, while the Szechuan-style mabo tofu ($19) is compulsive and comforting, with curry powder and house-made pickled chilies providing a warming kick.
311 W 43rd St between Eighth and Ninth Aves (212-776-1818)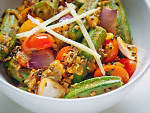 Benares
Just a short stroll north of Times Square, the subdued dining room at Benares offers a respite from midtown madness, as well as a taste of the 'hood's most ambitious Indian cooking. Virtuoso chef Peter Beck (Tamarind) oversees the region-hopping bill of fare, which includes a robust selection of seafood and vegetarian dishes (the restaurant takes its name from a city in the northeastern state of Uttar Pradesh, an area known for its veggie-based specialties). Of the latter, we loved the lauki ka kofta—hearty green-squash dumplings smothered in cumin-laced paneer and a buttery, tomato-based makhani sauce. While carnivores can find classics like lamb rogan josh and chicken vindaloo, you might opt for less familiar specialties, like kozhi varutha, a South Indian–inspired chicken curry thickened with coconut milk and spiced with roasted chilies, garlic and ginger.
240 W 56th St between Broadway and Eighth Ave (212-397-0707)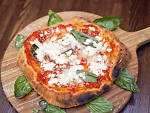 Don Antonio by Starita
While tourists bumble into Sbarro looking for a New York slice, pizza aficionados have been busy colonizing this pedigreed newcomer—a collaboration between Kesté's talented Roberto Caporuscio and his decorated Naples mentor, Antonio Starita. Start with tasty bites like the frittatine (a deep-fried spaghetti cake oozing prosciutto cotto and béchamel sauce), before digging into the stellar wood-fired pies, which range from standards such as the Margherita to more creative constructions like the Rachetta, a racket-shaped pizza with a "handle" made of ricotta-stuffed dough. The main event, however, should be the habit-forming Montanara Starita, which gets a quick dip in the deep-fryer before hitting the oven to develop its puffy, golden crust. Topped with tomato sauce, basil and intensely smoky buffalo mozzarella, it's a worthy new addition to the pantheon of classic New York pies.
309 W 50th St between Eighth and Ninth Aves (646-719-1043)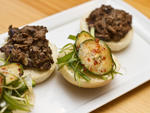 Danji
With butcher-block tables, inventive Korean-inspired small plates and a Michelin star to boot, this diminutive eatery is of the rare breed that would likely be just as packed downtown as it is on West 52nd Street. Chef Hooni Kim (Daniel, Masa) brings his haute French training to bear on the food of his homeland, splitting the menu between traditional dishes and modernist riffs. His flavors are bright and fresh, with a great balance of sweet, spicy and funky elements. The classics seem, for the most part, like upgrades on their source material—scallion pancakes are exceptionally fat and crispy, while chili-slicked buckwheat noodles are paired with a beer-friendly salad of spicy vegetables and chewy, briny whelks. The updated stuff is equally appealing. Sliders may be passé, but you won't want to miss Kim's addictive bulgogi variety, served on pillowy grilled buns with spicy pickles and scallion salsa.
346 W 52nd St between Eighth and Ninth Aves (212-586-2880)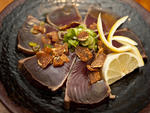 Sake Bar Hagi
Located right in the heart of Times Square, this underground izakaya has established itself as one the area's best-kept secrets. Packed with Japanese patrons late into the night (it stays open until 3am), the spot offers an encyclopedic menu of Nippon comfort foods like crispy kara-age (pieces of fried chicken) with ponzu sauce, bonito sashimi painted with citrusy soy sauce and spaghetti tossed with a spicy cod-roe cream sauce. Dirt-cheap pitchers of Kirin fuel the raucous vibe.
152 W 49th St between Sixth and Seventh Aves (212-764-8549)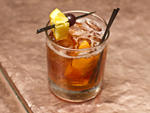 Rum House
Get a taste of the old Times Square at this 1970s-vintage piano bar in the Edison Hotel. While the team behind Tribeca mixology den Ward III has recently wiped the scum left behind by the barflies of yore, the upgraded Rum House maintains the charmingly offbeat flavor of the original. Belly up to the tiny bar and listen to live jazz acts (Wednesday–Saturday nights) while vest-clad bartenders mix dark-spirit–heavy tipples, such as a funky old-fashioned riff that showcases the rich, tropical complexity of Banks 5 Island Rum. Those who suffer the cruel fate of being in midtown on a weekend morning can console themselves with a range of six Bloody Marys (11am–5pm).
228 W 47th between Broadway and Eighth Ave (646-490-6924)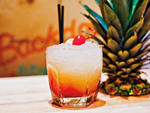 Réunion
This subterranean surf shack is plenty kitschy, but it's a far cry from the corporate-backed theme joints that plague the area. Bartenders rocking board shorts and old-school surf tunes warbling over the speakers forecast the spot's chilled-out attitude—a welcome change of pace from the drab tourist traps above ground. Sip a well-balanced dark and stormy floating big bits of ginger, or cool off with the "frozen Corona"—a grown-up slush, with an icy blend of beer, vodka, triple sec and lime. Franco-Asian snacks should save you from a tipsy wipeout on the way home; go for Hanboa Sliders, with tender short ribs and a spicy combo of kimchi and sriracha mayo.
357 W 44th at Ninth Ave (212-582-3200)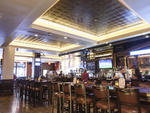 The New York Beer Company
Beer Authority isn't the only place to find quality brews in Times Square. Along with a new outpost of the Empire State–boosting Little Town NYC, this sprawling (and otherwise generic) sports bar has provided a stage for New York's growing cast of artisanal producers. In addition to upstate standouts like Empire Cream Ale, find hyperlocal pours like Bronx Pale Ale and Sixpoint Sweet Action. Market-based pricing on some of the beers means that your tab can fluctuate depending on demand—it's gimmicky for sure, but vigilant drinkers can nab serious deals on lesser-known brews hovering around the $4 mark.
321 W 44th St between Eighth and Ninth Aves (212-245-2337)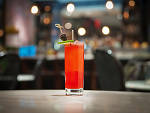 Lantern's Keep
Haute cocktails aren't easy to come by around these parts, but this intimate salon—tucked in the back of the Iroquois Hotel—provides an inviting nook for enlightened tipplers. Marble tables, pale blue velvet chairs and Impressionistic paintings help conjure the European salon scene of the 1920s and 1930s. Meanwhile, a small library of cocktail tomes (The Savoy Cocktail Book, Jerry Thomas' Bartenders Guide) is reflected in the classic mixology behind the bar. Among the more esoteric throwbacks is a heady Boulevardier, a sort of love child of the Negroni and the Manhattan that mellows the spicy bite of Elijah Craig bourbon with Campari and sweet vermouth.
The Iroquois New York, 49 W 44th St between Fifth and Sixth Aves (212-453-4287)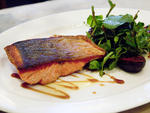 Esca
Though it lacks the buzzy location of some the other hot spots in the Mario Batali–Joe Bastianich empire, Esca has upheld its reputation as one of the city's finest practitioners of Southern Italian seaside cooking. Chef Dave Pasternack, who also runs the fish program at Eataly, is a master of simple preparations that allow the fundamental flavors of the sea to shine through. Start with signature crudo—bright raw-fish compositions such as sea trout with fresh almonds and razor-clam ceviche with chilies, scallion and mint—then move on to excellent shareable pastas, such as superlative grilled fish, or succulent square-cut maccheroni alla chitarra with sea urchin and crab.
402 W 43rd St at Ninth Ave (212-564-7272)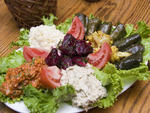 Kashkaval
This charming cheese-shop-cum-wine-bar evokes fondue's peasant origins, with deep cast-iron pots and generous baskets of crusty bread. Steer clear of the bland and rubbery kashkaval (a Balkan sheep's-milk cheese). Instead, order the garlicky Gorgonzola—perfectly gooey and surprisingly mild—before devouring the bittersweet dark-chocolate fondue, a guaranteed crowd-pleaser served with fruit and mini marshmallows.
856 Ninth Ave between 55th and 56th Sts (212-581-8282)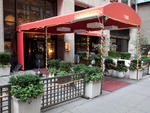 Sushi Zen
One of the city's oldest and most respected sushi temples is also one of its least conventional, with an offbeat fish selection that will impress the most experienced aficionados. In addition to the usual suspects, you'll find more esoteric options, such as whole abalone and seasonal catches including tilefish, saury and halfbeak. The calm, bamboo-clad dining room provides a fine stage for the artfully prepared fish—order the omakase and let the skilled sushi chefs orchestrate your meal with the catches of the day.
108 W 44th St between Sixth Ave and Broadway (212-302-0707)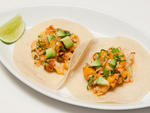 Toloache 50
Chef Julian Medina (Coppelia, Yerba Buena) satisfies midtown Mexican cravings at this buzzy, mural-clad duplex in the heart of the Theater District. Adventurous eaters can try the crunchy grasshopper tacos, though we like the luxe langosta version, featuring buttery hunks of poached lobster sautéed with a chile de arbol–based morita salsa, then finished with a dice of creamy avocado and a drizzle of chipotle mayo. There are options beyond the tortilla as well, including an excellent shrimp entrée of garlicky crustaceans atop black beans and chayote squash. In lieu of a sweet finale, try one of Toloache's 150 tequilas.
251 W 50th St between Broadway and Eighth Ave (212-581-1818)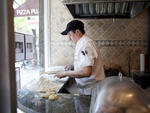 Gazala Place
Move beyond familiar Middle Eastern fare at this tiny storefront, where chef-owner Gazala Halabi celebrates the little-known cuisine of the Israeli Druze (a religious group with ties to early Islam). You can snack on various kinds of hummus, along with smaller bites at a meze bar, but the main draw is the selection of bourekas—bagel-like rounds with a flaky shell and buttery, elastic interior. Our favorite stateside interpretation of the filling snack is stuffed with sun-dried tomato and tangy goat cheese, then sprinkled with white and black sesame seeds.
709 Ninth Ave between 48th and 49th Sts (212-245-0709)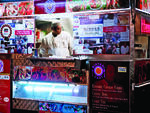 Biryani Cart
Midtown lunchers flock to this heavily decorated food cart, winner of the 2008 and 2009 Vendy People's Choice Award. The chicken tikka and kathi rolls are solid bets, but the star of the show is the chicken biryani ($6), which Bangladesh native Meru Sikder has been serving since he launched the cart in 2004. The dish features smoky, moist bits of chicken blended with yellow rice and topped with an egg boiled in saffron. Orders can be spiced according to your heat tolerance, and they're served with yogurt-drenched lettuce and a mango pickle to help cut the kick.
At the corner of W 46th St and Sixth Ave (917-628-3269)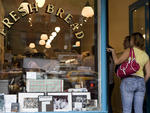 Amy's Bread
Those looking for coffee and a snack would do well to detour west of Times Square in search of baker Amy Scherber's famous loaves, giant cookies and old-fashioned layer cakes. Her addictive raisin semolina bread—studded with golden raisins and fennel seeds and coated in cornmeal—is as good as any pastry. This location is open until 11pm on weeknights for theatergoers looking to sate their postshow sugar cravings.
672 Ninth Ave between 46th and 47th Sts (212-977-2670)
Pam Real Thai
Hell's Kitchen is chockablock with watered-down takeout joints peddling pad thai and spring rolls. This trusty standby, opened by chef Pam Panyasiri in 2001, stands out for its authentic, fiery and flavorful fare. Try outstanding lime-dressed green-papaya salad garnished with peanuts and salty dried prawns, chicken-stuffed curry puffs or the subtly spiced crispy fried duck. With most entrées hovering around $10, the place remains one of the area's best deals.
404 W 49th St between Ninth and Tenth Aves (212-333-7500)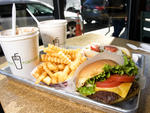 Shake Shack
Danny Meyer's new-school chain has become the benchmark for cheap, quick-service burgers in the city. The lines can be a nuisance, but the pedigreed patties—a custom blend of LaFrieda sirloin and brisket—are worth the wait. And while we love the iconic ShackBurger, topped with melted American cheese, local lettuce, thick-cut tomato and proprietary ShackSauce, the place is no one-trick pony. The excellent Shack-cago Dog, a Windy City nod, features a Vienna all-beef franks with a "salad" of toppings and a dash of celery salt, and frozen-custard shakes are a must for dessert.
691 Eighth Ave at 44th St (646-435-0135)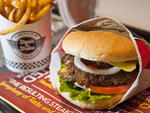 Steak 'n Shake Signature
This Midwestern import—founded in Normal, Illinois, back in 1934—is the only out-of-towner to make a convincing run at Shake Shack's quick-service burger supremacy. While the six-ounce NYC Signature Steakburger is satisfyingly beefy, we prefer the proportions of the original Double 'n Cheese Steakburger, which features two patties smashed thin and crispy on the griddle, then draped with barely melted American cheese and sandwiched inside a soft, buttery bun. Since the chain maintains uniform pricing nationwide, the whole greasy package will set you back just $3.99, including a side of liberally salted fries.
1695 Broadway between 53rd and 54th Sts (212-247-6584)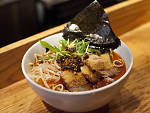 Totto Ramen
An omnipresent line of noodle fanatics marks the entrance to this below-street-level ramen-ya, which easily ranks among the city's best spots for slurping. The specialty is paitan ramen, a creamy soup that's a chicken-based variation on Hakata, Japan's famous tonkotsu (pork) broth. The most basic version, the Totto chicken, is a flavorful, opaque soup bobbing with thin, straight noodles and slow-cooked pork ridged with satiny fat. Order the spicy version to get a side of "extreme rayu"—a chili-infused sesame oil that's sure to make you sweat. Among the hit-and-miss sides, we like the char siu mayo don—a mound of rice heaped with unctuous pork, raw sliced scallions and yuzu-accented mayo.
366 W 52nd St between Eighth and Ninth Aves (212-582-0052)
---