Your St. Paddy's Day
This year, fete the Emerald Isle your own way. TONY breaks down festive plans for gourmands and boozehounds alike.
By Chris Schonberger Illustrations by Pascal Dizin Mon Mar 14 2011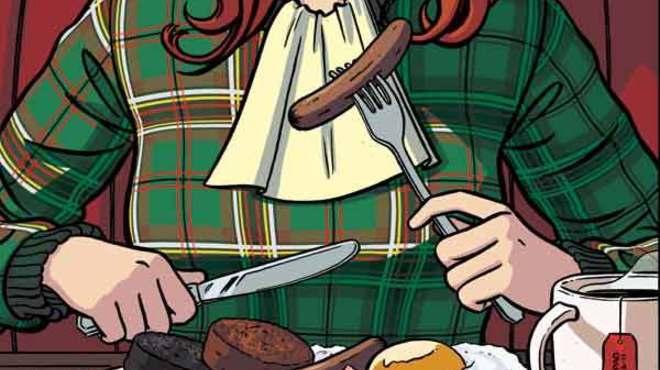 THE GASTRO GEEK
You call your bacon rashers and swoon for soda bread. Track down traditional Irish treats on a borough-hopping food tour.
DIG INTO A FULL IRISH BREAKFAST
If you're serious about Irish grub, you know there's no skipping breakfast on St. Patrick's Day. You can get the traditional fry-up—eggs, lean back bacon, sausages, black pudding (blood sausage), white pudding (made with pork and oatmeal) and tomato—at most Irish pubs, but it takes a studied practitioner to make one that meets old-country standards. The Fitz (687 Lexington Ave between 56th and 57th Sts, 212-355-0100), a pheasant-wallpapered nook in the Fitzpatrick Manhattan Hotel, has 20 years of experience serving its standard full Irish ($19). Order your egg fried; puncture the plump yolk, and use it to coat the squat bangers and gently spiced white pudding. If you wait until the weekend to celebrate St. Paddy's, screw the utensils, and instead tackle the inspired Irish breakfast roll ($10) at Sweet Afton (30-09 34th St at 30th Ave, Astoria, Queens; 718-777-2570; available Sat, Sun 11am--4:30pm). This Gaelic gut-bomb features sliced pork sausage, Irish bacon, a fried egg and two rounds of seared black pudding shoehorned into a buttery country roll, with baked beans and a juicy grilled tomato on the side. For an extra $2, you can get the sammie smothered in melted Irish cheddar and scallions.
STOCK YOUR IRISH PANTRY
To find supplies for a proper St. Patrick's Day feast, skip Whole Foods and make your way to Sunnyside, a longtime Irish stronghold in Queens. There, you can rub shoulders with homesick expats at Butcher Block (43-46 41st St between 43rd Ave and Queens Blvd, Sunnyside, Queens; 718-784-1078), a neighborhood grocery store that packs its shelves with labels like Marmite, Paxo and Cadbury. At a meat counter along one wall, men in white aprons dole out black pudding and cuts of beef popular across the pond, like shin and round steak. You'll also want to raid the tea aisle and the fridge toward the back, full of imported breads, including Irwin's potato farls. But the most enticing draw for St. Paddy's bingers is the bounty of Anglo junk food: colorful cardboard boxes brimming with crisps in flavors like prawn cocktail, copious chocolates (Wispas, Twirls) and house-made sausage rolls.

THE EVENT FOR YOU: IRISH COOKING CLASS
Learn to whip up classic Irish dishes at a hands-on cooking class and tasting. You'll make favorites like soda bread and corned beef with cabbage, then dig into the results, alongside beer and Michael Collins whiskey. Ger-Nis Culinary & Herb Center, 540 President St between Third and Fourth Aves, suite 2E, Gowanus, Brooklyn (347-422-0337). Thu 17. 6:30--9:30pm; $50.
RECOMMENDED: A guide to St. Patrick's Day in NYC