Fighting back against sexual harassment on the street
Find out how two organizations are combating catcalling and other forms of sexual harassment in New York.
By Lilit Marcus Mon Oct 1 2012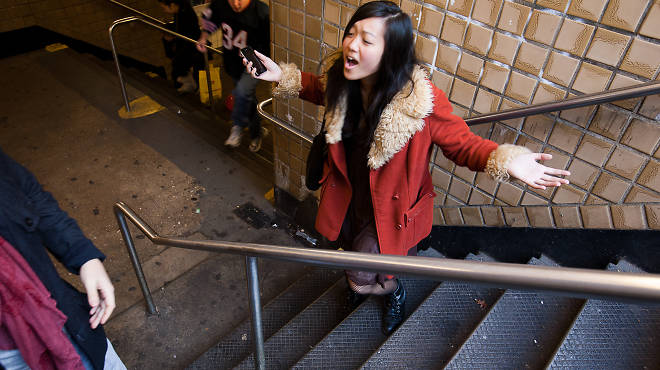 Photograph: Elizabeth Rappaport/Ms. Foundation for Women
If there's one thing that cops and activists can both agree on, it's that the amount of street-based sexual harassment in New York is on the rise, big time. Though no formal number of reported incidents in the city exists at this point, the CDC (Center for Disease Control and Prevention) has named "non-contact sexual experiences"—such as street harassment—as the number-one form of sexual violence against both young men and women in America. And though street harassment is an unfortunate given of life in large, densely populated urban areas, several groups in the city are trying to treat the cause of the disease as well as the symptoms.
RECOMMENDED: See all Sex issue 2012 coverage
Why is street harassment so prevalent in New York? Emily May, the executive director of the activist group Hollaback (ihollaback.org), theorizes that density is one factor. "If 1 out of 100 people who pass you on the street will harass you, it takes a lot longer for that to happen in a Walmart parking lot than it does in Times Square," she explains. Hollaback's website and phone app help victims fight back by posting pictures of their harassers and relating their experiences. The project launched in 2005, inspired by a New York City woman who uploaded a photo of a man who masturbated in front of her on the subway to the image-sharing website Flickr. Although police were initially unresponsive to her claims, the image wound up on the cover of the Daily News and started a public conversation about the issue. Hollaback's network has expanded to 54 cities in 19 countries, and is in the process of partnering with New York's city council to make it easier for authorities to access information from the group's iPhone and Android apps (which will be updated by next spring). "In addition to providing legitimacy to the issue, the revised apps will provide immediate resources and referrals to victims of street harassment," says May.
Another group working with victims of street harassment is RightRides (rightrides.org), a free late-night car service for women, LGBTQGNC individuals and anyone who feels unsafe on his or her way home.
Share your thoughts