Inside a sugar-daddy party
Two TONY writers explore a singles mixer with a transactional twist.
By Rachel R. White and Drew Toal Fri Oct 14 2011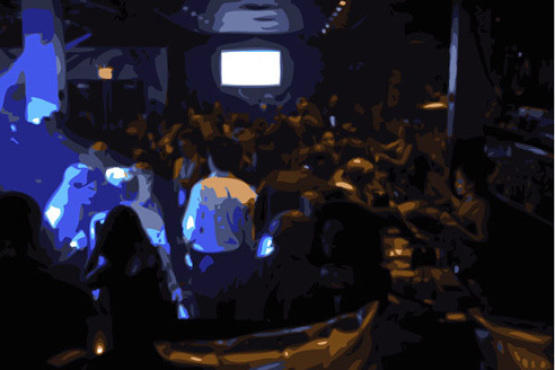 The music is pumping and people are dancing. I stand near the back of the Copacabana. Suddenly a tall, attractive Asian girl walks toward me. She must have noticed my crushed-velvet sport coat and decided to come over and meet its dashing owner. It's loud in the room, so she leans in close to whisper her sweet nothings. I plan on letting her down gently, telling her that I'm spoken for. "Did you just take my picture?" she asks. I had taken a picture, and I suppose I was pointed in her general direction. But no, I tell her, the answer is definitely no. What's going on here, anyway? Just what is she accusing me of? In a half-hearted effort to prove that I'm not the voyeuristic creep she apparently believes me to be, I gallantly offer to delete the photo that is totally not of her. "No, it's cool," she says, somewhat resignedly. It's clear that she doesn't believe that I was only taking photos of the guy on stage whose name I missed but who is apparently No. 15 on the Puerto Rico dance charts, but I guess that I wouldn't believe that explanation either.
So goes my evening at the Sugar Daddy Beauty Ball & Businessman Bash, presented by SeekingArrangement and Alan Action, at the Copacabana Ballroom this past Monday. SeekingArrangement is a website dedicated to "mutually beneficial relationships," which in this case means matching sugar daddies with compatible sugar babies. It's mutually beneficial in the sense that the these older and wealthier fellows shower girls with gifts and cash and in return get to frolic with these ambitious young women. It's a time-honored tradition and requires a certain etiquette. The website describes the perfect sugar daddy thus: "You are always respectful and generous. You only live once, and you want to date the best. Some call you a mentor, sponsor or benefactor. But no matter what your desires may be, you are brutally honest about who you are, what you expect and what you offer." It is gratifying to see that romance isn't completely dead.
I perhaps don't look the part of the sugar daddy (and, understandably, no one has ever referred to me as a mentor, sponsor or benefactor). My flimsy cover is dealt its initial blow not 15 minutes after I arrive at Copacabana. A young sugar baby comes up to me, smiles, and in a good-natured way explains how she knows that I'm not there for the party. I ask her what gives me away. "You're one of the only ones here under 40," she answers. Quite right. But what she can't possibly know—what she must never know—is that my real reason for being here is that Rob Schneider and Pauly Shore are supposed to be attending. I have this mental image that I can't shake of Pauly, Rob and I getting hammered, staggering out of the party and spending a crazy night out on the town, getting into all kinds of wacky New York City high jinks. After all, what is a sugar daddy party without Deuce Bigalow: Male Gigolo?
Until my future buddies arrive, though, I'm going to have to get through this thing with copious amounts of alcohol. Unfortunately, a lack of planning finds me with five dollars in my wallet. That is not going to do me or my potential sugar babies any good. So instead of sitting at the bar, I stand around watching an intense sugar daddy in a sweaty T-shirt dance his heart out, alone, to a song I kind of recognized from the gym (Chris Brown?). The guy could be my dad, but he's dancing so hard I'm afraid he'll set the floor on fire. Still no sign of Pauly or Rob. Another, larger sugar daddy in a pinstripe suit comes up to me and shakes my hand. He asks what I do for a living. I tell him that I'm a writer. He says he's just trying to get a sense of what all the other fellas here do. ("I'm in life insurance," he tells me.) For some reason we can't seem to bridge the occupational gap between us, and he quickly moves on to complete his Copacabana career survey.
Meanwhile, the rest of the party seems to be going pretty well. Women from Scores are making the rounds, and there actually appears to be some sugarizing. There is a brief interlude where the salsa dancers come out and the Copacabana becomes Dirty Dancing: Havana Nights. One girl, perhaps alarmed by my standard aloof scowl, asks if I'm okay. I appreciate her concern, but it will do no good for me to explain that my face is permanently stuck like this. Another girl—Russian, I think—notices my camera and insists I take her picture. "Of course!" I say. She then offers me five dollars for my trouble. Despite my penurious circumstances, I decline the payment. At least someone here wants their picture taken.
The night seems to be winding down. I'm disappointed that Rob and Pauly never showed, but happy for so many new mutually beneficial relationships to have flowered. On my way out, I'm told that there is free limo service to Scores and am handed a card that guarantees me free lifetime admission. Looks like this party is just getting started.—Drew Toal
Share your thoughts