X-rated pickup stories
Night owls share their tales of random hookups. Illustrations by Michael Marsicano
By Time Out editors Mon Sep 27 2010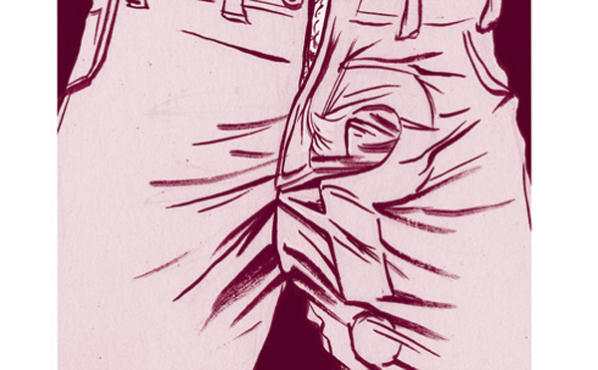 "There was a problem... with my penis."
Who: Straight female, 28, publicist
Where: Iona (180 Grand St between Bedford and Driggs Aves, Williamsburg, Brooklyn; 718-384-5008)
"I've always been against Internet dating, convincing myself that it would be like admitting defeat or advertising my desperation. But after talking about it for months, my friends convinced me to sign up for OkCupid. Pretty soon, I started chatting with David, a seemingly cool Brooklyn hipster who worked in the media. His photos suggested he was cute (glasses, dark hair, nice smile), and after the standard online courtship, we met up at Iona. He looked like his photos, which was a good start. As my nerves subsided, we did a bunch of shots, and I figured the least I could do was make out with him.
He lived around the corner, so we left the bar and stood on his stoop making out like teenagers. I set my bag down and after a long time, I realized that some asshole had stolen it while I was otherwise occupied. I was pissed, but David was sweet and understanding. When he asked me to come up to his apartment, I was shaken, drunk and reckless enough to agree. After rolling around for a while, I grabbed him by the balls and stroked his crotch through his skinny jeans. He became really stiff (not in the good way) and pulled away suddenly. He cleared his throat and started to explain: "When I was born...there was a problem...with my penis." Turns out he had a little three-inch stump with no discernible head or any other regular features. I did wonder if perhaps he was a transsexual, and his/her penis was reclaimed in some way, but I was pretty much straight out the door at that point. I felt really bad, but I never called him again and deleted my OkCupid account the next day. Who would have thought? Robbed twice in one night."—As told to Michael Harry
NEXT "I don't want to be hooking up with a stripper at a gay club"