Nails at home: six new polish collections get put to the test
Is it worth doing your nails at home if you want funky nail art? We sampled a half-dozen new lacquers, from magnetic snakeskin to matte glitter, to find out.
By Sarah Bruning and Elizabeth Denton Tue Jan 22 2013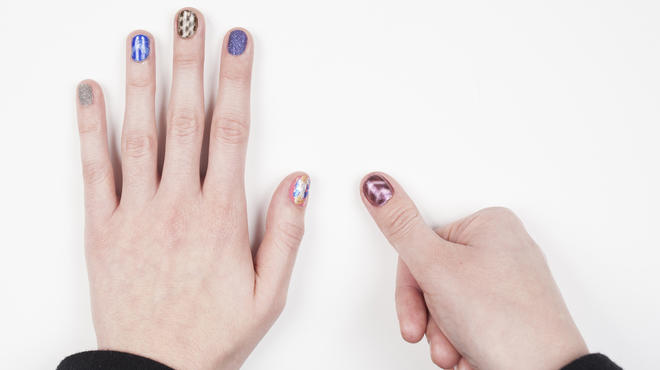 Photograph: Jay Muhlin

Just when nail art seemed to be dying out, the release of several DIY kits and textured polishes set off a new frenzy. But which ones let amateurs pull off cool nails at home, and which should be left up to beauty experts at local salons? Time Out tested six contenders to find out what's worth your time (and cash).

RECOMMENDED: New York spas guide 2013
Nails at home: six new polish collections get put to the test
Deborah Lippmann Magnetic Wave Design (lippmanncollection.com)
The promise: You should see a wavelike, metallic-colored pattern after holding the included magnet over two coats of polish for ten seconds.
The results: Of the three kits available, we tried the most affordable option ($29 for three mini bottles instead of $36 for two regular-size ones) in Magnet Appeal, which featurs black, navy and raspberry shades. (The latter was our favorite.) Each set contains a magnet with a tiny lip on the side, perfect for setting onto the cuticle while the wave is taking effect. Hold the magnet close to the nail while it's still super wet, but only for the ten seconds recommended: any longer and the wave starts to blur. The trippy design came out as promised—with a little practice.
Our take: The set is on the pricey side since you can't purchase the polishes individually, and we wish the magnet was in the cap for easier transportation. Still, Lippmann makes some of the most vibrant colors around, and if you've got the patience, the results are worth it.
You might also like
---