Awake and Sing!
By Clifford Odets. Dir. Bartlett Sher. With ensemble cast. Belasco Theatre (see Broadway).
By Time Out editors Thu Apr 20 2006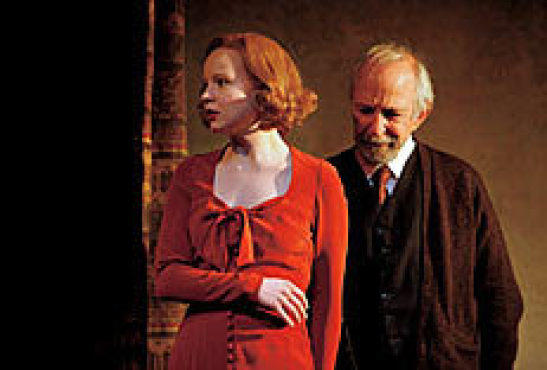 GENERATION GAP Ambrose, left, gets advice from Gazzara.
Time Out Ratings :
<strong>Rating: </strong>0/5
The Berger household is coming apart at the seams. First there's the gorgeous, stubborn daughter Hennie (Lauren Ambrose), who's got a bun in the oven and needs to find a husband fast. Ralph (Pablo Schreiber) also wants to marry and get the heck out of his family's claustrophobic Bronx apartment. Grandpa Jacob (Ben Gazzara) wanders around said joint sifting through dashed Communist dreams and bemoaning the petty, materialist aspirations of his relatives. And matriarch Bessie (Zo Wanamaker) struggles mightily to keep the kids from flying away and the clan from crumbling. But Bessie's sharp tongue and iron will are nothing compared to director Bartlett Sher's big concept: In Act II of his sturdy revival of Awake and Sing!, the walls and ceiling literally start to float away.
To embody the fracturing of the Berger tribe using Michael Yeargan's self-deconstructing set is a bold dramatic gesture—all the more striking since it frames a traditional approach to the play. Clifford Odets's glorious Depression-era family drama comes alive in the hands of (mostly) excellent actors, who drain their jazzy, percussive, Yiddish-inflected lines to the last drop. (Gazzara, while a stage icon, is oddly mush-mouthed and low-energy, which weakens some scenes considerably.) Mark Ruffalo is a caustic, wisecracking delight as a tough-talking World War I vet with a missing leg who pines for Hennie. He and his fellow performers are the glue that gives this potentially fragmented revival its rock-solid integrity.—David Cote