Breaking news! Post–Mike Daisey panel Truth in Theater: A Conversation to be held on March 22 at 8pm
By Adam Feldman Tue Mar 20 2012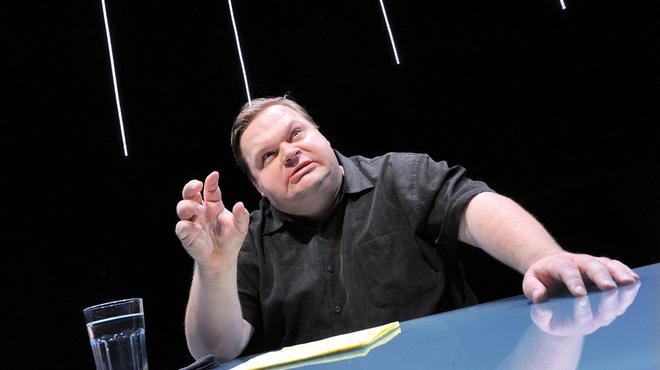 Mike Daisey Photograph: Stan Barouh
We want the truth! But can we handle the truth? And are you free to find out on Thursday night?
Monologuist Mike Daisey made national news this week with the revelation that he had fabricated key details of his acclaimed one-man show The Agony and the Ecstasy of Steve Jobs, an excerpt of which was featured in a January episode of the public-radio program This American Life. In the blowup that ensued, Daisey acknowledged that he had erred in presenting his work—a hard-hitting look at the brutal Chinese labor conditions that underwrite our sleek electronic gizmos—on Ira Glass's series because "the tools of theater are not the same as the tools of journalism."
But what are those tools of theater, and by what rules do they operate? The Daisey controversy raises important issues about the nature of storytelling and truth-telling. Many of these have been addressed rigorously from the perspective of news, but not from the perspective of theater.
A panel of prominent artists and journalists, convened by TONY theater critic Adam Feldman, will discuss questions of veracity, ethics and artistic license in nonfiction-based theater on March 22 at 8pm. Participants include writer-director Steven Cosson (This Beautiful City), playwright-performers Jessica Blank (The Exonerated) and Taylor Mac (The Young Ladies of…), and critic-reporters Peter Marks (Washington Post) and Jason Zinoman (The New York Times).
The Public Theater, where Daisey's Agony/Ecstasy played through last weekend, has generously agreed to provide space for the event (though it is not a Public Theater production). Seating is free but limited; for tickets, call the Public at 212-967-7555.
You might also like
See more in Theater