Murder Ballad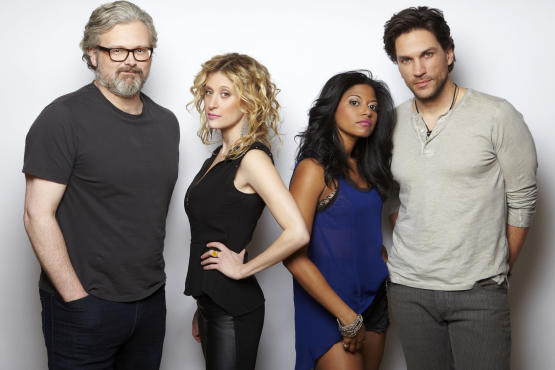 Photograph: Zachary Maxwell Stertz
Time Out rating:
<strong>Rating: </strong>4/5
Not yet rated
Time Out says
Thu Nov 15 2012
[Note: The following is a review of the 2012 production at Manhattan Theatre Club. Murder Ballad begins a new run at the Union Square Theatre on May 7, with Caissie Levy in the role formerly played by Karen Olivo.]
This intimate, sung-through musical by playwright Julia Jordan and songwriter Juliana Nash is the inaugural production of Manhattan Theatre Club's (unimaginatively titled) Studio at Stage II, a platform for presumably daring new work. To be sure, the cabaret seating and onstage full-service bar herald a loosened-up, downtownish vibe. And I doubt that many MTC offerings have a preshow mix that includes Peaches's "Fuck the Pain Away" (the deathless lyric "suckin' on my titties / like you wanted me" greets staid subscribers picking their way through tables). Luckily, the edginess isn't all window dressing. Murder Ballad is energized, dirty fun, a blend of pulpy storytelling, radio-ready rock and environmental theatrics enacted by a fearless, sexy cast.
Right off, we know the night will end in tears. A bloody baseball bat lies on the green-felt pool table, presaging a violent end to a love triangle (or is it a quadrangle?). Around the space, Jordan and Nash's characters take their places to enact the urban tragedy. There's hard-drinking, self-wrecking Sara (Karen Olivo), in torrid love with bad-boy bartender Tom (Will Swenson). Meanwhile, nice guy Michael (John Ellison Conlee) offers Sara constancy and loyalty. Narrating these romantic agonies is vampy and luscious Rebecca Naomi Jones. Each performer brings oodles of charisma and strong singing chops. Olivo is a particular knockout, mixing rue and rage to dynamic effect.
If the piece wobbles a touch between rock-song cycle and story-driven musical, at least director Trip Cullman keeps it roaring along, with actors expertly navigating close quarters (and a brief but sensational fight scene). So grab a beer, get a table and make like you're at a rock concert—because you sorta are.—David Cote
Follow David Cote on Twitter: @davidcote
Categories:

Theater. Musicals. Drama

Good for:

Culture vultures. Dating. Date night. Hip factor. Local talent. Trendy

Event type:

Plays & Shows
Share your thoughts
Near Union Square Theatre