Waiting for Waiting for Godot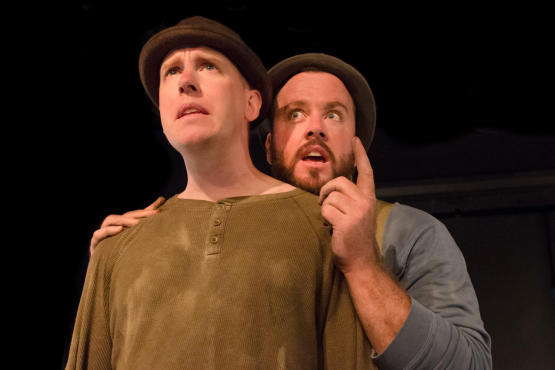 Waiting for Waiting for Godot Photograph: Jill Steinberg
Time Out rating:
<strong>Rating: </strong><span class='lf-avgRating'>5</span>/5
Time Out says
Posted: Fri Aug 23 2013
Who has it worse than Vladimir and Estragon, the two poor saps caught in the gears of existential ennui in Samuel Beckett's Waiting for Godot? The two guys understudying the part of Vladimir and Estragon, of course. As Val (Dave Hanson, also the playwright) and Ester (Chris Sullivan) mope around backstage, awaiting a moment in the spotlight that will surely never come, their waffling talk takes on the rough outline of Beckett's text. Their Godot is the unseen director, and their endless plain of nothingness is the merciless acting profession itself. WFWFG is gleefully absurd and self-aware, as his two antiheroes' chatter trips on and off of solid ground. Sullivan and Hanson make a classic comic pair; Sullivan struts and frets with Orson Welles–ish gravitas, whether he's declaiming about the sanctity of "art, that terrible whore" or pissing off the top of a ladder. From Alex Harvey's canny direction to Hanson's clever, pithy script, WFWFG is a perfectly executed trip into metatheatrical purgatory. Up next: Rosencrantz and Guildenstern Are Dead Is Dead?—Jenna Scherer
Click here for full TONY coverage of the 2013 New York International Fringe Festival.
Users say
<strong>Rating: </strong><span class='lf-avgRating'>0</span>/5