Wicked on Broadway: Talking to the 15 wonderful witches
We got up close and personal with all 15 emerald divas who played Elphaba in the Broadway smash Wicked.
By Diep Tran Tue Oct 22 2013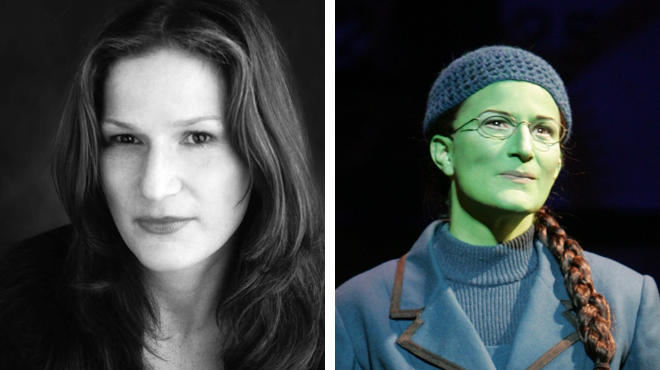 Ana Gasteyer Photograph: Joan Marcus (right)
Ana Gasteyer (2006–07)

You've spent a good portion of your career doing comedy. Why did you decide to tackle a dramatic role like Elphaba?
I never really think about a role as dramatic or comedic. I just want to play it if it resonates, and Elphaba is very, very familiar to me. She is academic, funny, misunderstood, vulnerable and acerbic—characteristics of great comic roles, yes, but far more comprehensive when explored from a darker angle. Likewise, musically, the comic take on an Elphaba would live in a really simple place (Almira Gulch on the bike!), but Elphaba's music in Wicked is well-rounded, so there is ample opportunity to express all of her sides without just singing some crazy one-note musical veneer.

Do you think Elphaba could have become a comedian?
Oh, yes. Elphaba is an outsider. Ninety percent of comedy involves observing and revealing the truth, and that is what she does.

If you didn't play Elphaba, who else in the musical would you want to take a stab at?
I love Boq. Kind and conflicted.

What was your favorite song to sing?
I love "No Good Deed." I think it's a thrilling, expressive piece of music, and it does exactly what it is supposed to do in terms of storytelling. Everyone knows that terrifying, self-destructive brink, and without anyone or anything to pull her back, there is no going back for Elphaba after she's gone there. I also absolutely love "For Good," it is so powerfully forgiving and grateful. Playing Elphaba can be a very lonely enterprise, and I really valued the duet and the connection I felt with Kate Reinders when we sang it together.

Wicked on Broadway: Tickets, reviews and video
More interviews with the witches of Wicked
Write your own review
Theater events calendar for New York City
A Gentleman's Guide to Love and Murder. Walter Ker...

Little Miss Sunshine. Second Stage Theatre (see Of...

Twelfth Night and Richard III. Belasco Theatre (se...
140

more events »
Time Out videos
---
---
@TimeOutNewYork
Subscribe to Time Out New York on Spotify for playlists and recommendations from our Music team.


Check out New York's best restaurants, hottest street style, cool apartments and more.