Wicked on Broadway: Talking to the 15 wonderful witches
We got up close and personal with all 15 emerald divas who played Elphaba in the Broadway smash Wicked.
By Diep Tran Tue Oct 22 2013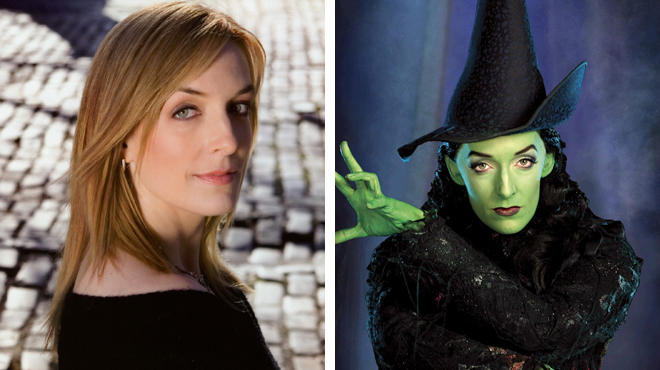 Julia Murney Photograph: Joan Marcus (right)
Julia Murney (2007)

What was your favorite song to sing?
"No Good Deed." (a) Elphaba's finally a grown woman and decides to stop apologizing, which makes her more powerful than ever, which was fun to take on. And (b) it's the last big one in the show, so it's sort of a home-stretch song.… You can't exhale yet, but you're closer!

You performed opposite Kendra Kassebaum on tour and on Broadway. What were some things you guys liked to do together during your off-hours?
I adore Kendra. One of the first things she said to me was that she was open to whatever I might want to try, and we had such a ball for the next year and a half. Off-hours, we would pretty much eat and then retreat and shut our mouths to get ready for the next show. I also had the great fortune of getting to go on with a bunch of other Glindas (Annaleigh Ashford and Alli Mauzey among them) that I got to adore for shorter stretches of time.

You were on tour and on Broadway. What was the biggest difference?
The biggest physical difference is that on the tour, the stage isn't raked. You get to Broadway and think, Okay, there's a little rake to this.… Got it.… But after a while, it creeps into your body in weird ways. There's also the fact that on tour not only are you changing cities every couple of weeks and have to find the grocery and CVS and all, but each theater's layout is different. Your quick-change areas and dressing-room locations keep changing. When I hit my first two or so cities, I barely knew where I was going at all, and would walk offstage and ask anyone nearby where on earth I was supposed to go.

What's been your most memorable experience with a Wicked fan?
That's funny; I originally thought you meant my experience as a Wicked fan, and I was going to say the show's opening night on Broadway. I got to be there and scream myself hoarse for Idina and Kristin, both of whom were old friends of mine. What a night! As far as with a Wicked fan, it would be impossible to narrow it down, but I can say they all stay in my heart, from the girl with the tattoo of the words "Defy Gravity" in my handwriting, to the strange items I've been asked to sign, and little girls looking at me confused because they didn't recognize me without my wig and green face, to all the drawings that were sent to me.

Wicked on Broadway: Tickets, reviews and video
More interviews with the witches of Wicked
Theater events calendar for New York City
La Soirée. Union Square Theatre (see Off Broadway)...

Queen of the Night. Diamond Horseshoe at the Param...

A Gentleman's Guide to Love and Murder. Walter Ker...
120

more events »
Time Out videos
---
---
@TimeOutNewYork
Subscribe to Time Out New York on Spotify for playlists and recommendations from our Music team.


Check out New York's best restaurants, hottest street style, cool apartments and more.