50 things to do in New York City on a Friday 2012
Every weekend should be a long one with these fab ways to spend a Friday.
By Time Out editors Fri Apr 27 2012
21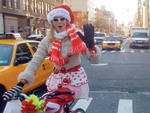 Ride your steed at Critical Mass
Join other pedal pushers for a public bike ride, to assert your rights as a cyclist and your right to have an enjoyable cycle with a friendly crew. The Manhattan event happens the last Friday of every month at 7pm, and the more open, less traffic-clogged Brooklyn ride is on the second Friday of every month.
See timesup.org for more information
Enjoy three-piece bands as the samovar-shaped lamps with gold mesh shades grow more gorgeous with every shot of 20 house-infused vodkas.
256 W 52nd St between Broadway and Eighth Ave
Book online
Splurge on, say, a $12 tipple of Aperol or Six Points Sweet Action and you could make an early dinner out of the complimentary Italian snacks—like frittata triangles, citrus-and-fennel salad, and mixed olives.
Wind down every Friday with a peaceful, gratis 45-minute deep relaxation class. The session begins with gentle stretching, then moves on to a long period of yoga nidra (deep relaxation) and concludes with breathing practices and a brief meditation. Arrive early—the class fills up fast.
227 W 13th St between Seventh and Eighth Aves
More info
Price band: 2/4
Critics choice
From 6 to 9pm, admission is whatever you want it to be. Which is a bargain considering that you can spend those hours staring at new exhibitions or the excellent permanent collection of modern art.
Price band: 1/4
Critics choice
On Fridays, we recommend heading to ICP, where entry is based on a voluntary contribution and you can take in two floors' worth of photos and video exhibitions on the cheap.
Price band: 3/4
Critics choice
On Fridays from 4 to 8:30pm, sip wine ($12), beer ($7), or a mojito ($12) at the second-floor Great Hall Balcony Bar, which peers onto the stately foyer. Live classical music courtesy of a piano player or string quartet adds to the sophisticated atmosphere.
Price band: 1/4
Critics choice
Seven of the theater's best players create smart, patient improv in this flagship show.
---