50 ways to make money
These side jobs will add fast cash to your bank account.
By Jennifer M. Wood Mon Mar 7 2011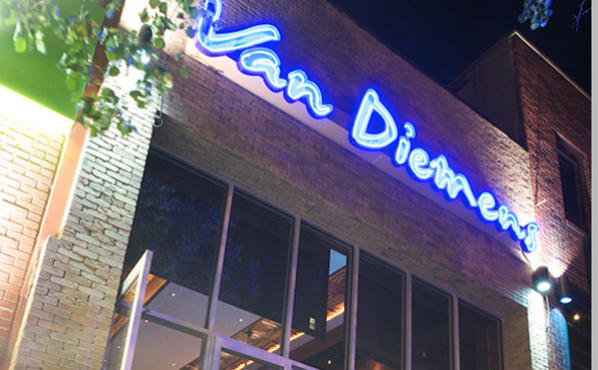 2. Pour a drink, guest bartend at Van Diemens Caf & Bar Photograph: courtesy of Van Diemens
1. Land a job...for someone else
With the local unemployment rate hovering around 9 percent, job seekers are in full supply—which means rsum writers are in high demand. But crafting a CV involves more than the ability to make a summer job at Subway sound like you were CEO. "Rsums need to show value," says Chandlee Bryan, a rsum writer and career coach at Best Fit Forward (bestfitforward.com) and coauthor of The Twitter Job Search Guide. "They need to stand out in ten seconds on a smartphone." For a rsum writer, becoming certified through an organization such as the Professional Association of Rsum Writers' (PARW) or National Resume Writers Association "is critical both as a way of learning the craft and demonstrating your expertise to colleagues and potential clients," says Kim Mohiuddin, chief career strategist at Movin' On Up Resumes (movinonupresumes.com). It's also a great way to find new clients, as all PARW members are listed on the association's website. The distinction allows for bigger paychecks, too. "Association members tend to charge by the hour, and a range of $75 to $250 or more per hour reflects a writer's level of experience and past success," says PARW executive director Frank Fox. Sign up for the $225 certification exam at parw.com.
2. Pour a drink
You don't need to know how to mix the perfect martini to be a guest bartender, but you do need a lot of friends who will pay to watch you try. "We provide the necessary training prior to the shift. All we expect is that the tender brings a minimum of 20 people through the door," says Alex Cosgrave, general manager of Mad River Bar & Grille (1442 Third Ave at 82nd St; 212-988-1832, madrivergrille.com), which hosts guest bartenders every Wednesday and Thursday (7--10pm). A shift at Mad River can net you anywhere from $50 to $300, says Cosgrave. But every bar offers a different deal and earnings can fluctuate based on many factors, including the agreed-upon percentage of tips you'll take home, the crowd and even the weather. You need only ten friends to pull the tap at Van Diemens Caf & Bar (383 Third Ave between 27th and 28th Sts; 212-532-1123, vandiemensnyc.com). Signing up is "as easy as placing a call to schedule a date or even walking in and mentioning that you'd like to guest-bartend," says owner Naef Qassis, whose temps make $50 to $100 per two-hour shift plus a $40 Van Diemens gift certificate. Visit murphguide.com/guestbartending.htm for a list of ongoing guest spots and details on how to land them.
3. Spin A Tune
Do you have an even larger entourage of friends and a predilection for bootie-shaking beats? Like a guest-bartending spot, if you can get at least 40 people through the door for happy hour or late-night carousing at LES hot spot (244 E Houston St between Aves A and B; 212-982-3532, stay-nyc.com), you can step into the DJ booth for the night and earn as much as $200, depending on how large a crowd you pull and how much alcohol that crowd consumes. (Tip: Owner Rob Koda says he's had DJs team up and pack the place.) E-mail the estimated size of your group to guestbartend@stay-nyc.com, along with your genre preferences and your spinning background (if you've got one). "It's all about the hustle," says Koda. "Spin to win."
4. Serve in a mock trial
Take a break from that Law & Order marathon to engage in a real legal drama and pull in a little extra cash: When a lawyer wants to check for holes in his case, he'll conduct a mock trial. Sign up to become a juror at eJury (www.ejury.com)—an online trial-consulting firm founded by Texas attorney Christopher Bagby in 1999—and wait for an e-mail invitation to take part in a case. Jurors are initially selected by location and demographics. Then they're asked to review a case summary and answer a series of verdict questions to help the legal pros determine the strength of their case. If you're eligible to sit on a live jury, you can take part in a virtual one. "Most cases are approximately five to six pages long with eight to ten questions, and the majority of jurors will finish in under an hour," says Bagby. Selected jurors can get $5 to $10 for their brainpower.
5. Host a pet
Animal devotees can apply to be a host with Buddy's Sleepovers (buddys-sleepovers.com), a matching service for pets in need of a crash pad and open-armed individuals. Frustrated by the lack of caring home environments to board their beagle (the titular Buddy), Howard and Marilyn Beutel, of New Jersey, founded the company in early 2009. "The successful host should first and foremost have a deep love of animals, coupled with a nurturing, affectionate manner," says Marilyn. "After that, the more pragmatic criteria are to have experience having owned and/or boarded pets, and availability during daytime and evenings." Compensation depends on length of stay, which can range from a weekend (expect about $60) to ten days ($300); some clients even tip their hosts.