Bike New York with these great outer-borough routes
Take to the streets on two wheels with these beginner-friendly cycling itineraries
By Jared Chausow Fri May 16 2014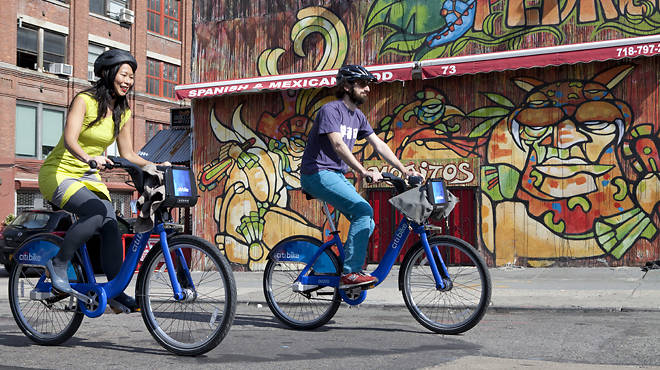 Photograph: Lars Klove/New York City Bicycle Share
Destination: Salvation Army warehouse
The massive Salvation Army warehouse (39-11 61st St at 39th Ave, Woodside, Queens; salvationarmyusa.org) is a little-known gem for thrift-shoppers seeking designer clothing, musical instruments, kitchen appliances­—even furniture. Of course, you won't be riding home with a John-John sofa strapped to your back, but you could stuff a backpack or pannier with some high-end loot. It's not unusual to dig up Prada shoes and Armani skirts.

Refuel: Ride a few blocks east to Sripraphai (64-13 39th Ave between 64th and 65th Sts, Woodside, Queens; 718-899-9599, sripraphairestaurant.com). This longtime destination for Queens-bound epicures constantly draws new devotees into its flock: Its reasonably priced entrées (most $9–$11) keep us coming back. The sinus-clearing drunken noodles ($10), whole red snapper ($23) and crispy watercress salad ($11) are especially tasty.

Route: From the Queensboro Bridge, turn left at Skillman Avenue, then right onto 43rd Avenue for a mile. Turn left onto 48th Street, and then right onto 39th Avenue. At Woodside Avenue, turn left and then make a sharp right to continue on 39th Avenue. Turn right onto 61st Street. From the store, take 61st Street to 39th Avenue, turn right and continue for three-and-a-half blocks.
---
Here are the ten New York experiences you simply can't miss.
Don't fret, penny-pincher—each of these fun cheap date ideas will cost you $30 or less.
Tired of swamped tourist traps, huh? Check out these alternative things to do in New York.
Find more popular Things to Do features