Eight things you must do in Prospect Park, Brooklyn
Get the scoop on the best things to do in Prospect Park, including concerts, the zoo, the carousel and more.
By Time Out editors Wed Jun 6 2012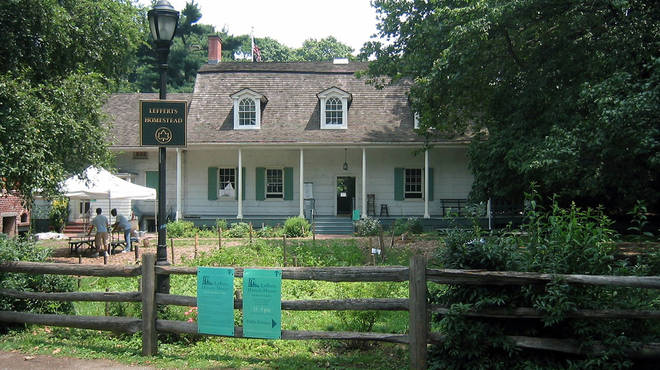 Lefferts Historic House Museum
Begin your journey at Grand Army Plaza
The northernmost entrance to the park is located near this elegant (and, let's face it, slightly terrifying) intersection of streets. The open space, which is strewn with benches, is anchored by the Soldiers' and Sailors' Memorial Arch, which was completed in 1892 and features reliefs of presidents Abraham Lincoln and Ulysses S. Grant. Enter at Flatbush Ave and Prospect Park West.
Coo over baby animals at the Prospect Park Zoo
A veritable menagerie lives at this 50-year-old institution, but we're especially excited about its new additions: Earlier this year, three North American river otter pups were born (they're the first of their kind born in a New York zoo since 1956), and can be seen on the zoo's Discovery Trail. Additionally, four dingoes—the first to be seen in NYC zoos for 40 years—have joined the western grey kangaroo, rock wallabies and emus in the Australian Walkabout exhibition. 450 Flatbush Ave at Empire Blvd, Prospect Park, Brooklyn (718-399-7339, prospectparkzoo.com)
See a show at the Prospect Park Bandshell
Thanks to Celebrate Brooklyn!, this plein-air venue is to Brooklynites what Central Park SummerStage is to Manhattan residents—the place to hear great music in the great outdoors. The programming for this summer festival mirrors the borough's diversity: The lineup for 2012 features performances from Jimmy Cliff (who kicks things off on June 5), Keb' Mo, Wild Flag, Lyle Lovett and more. Enter at 9th St and Prospect Park West (bricartsmedia.org)
Lounge on the Long Meadow
Fun fact: This mile-long patch of grass is one of the longest uninterrupted stretches in any park in the country. This means that even on the busiest days, there are plenty of spots to settle in for a picnic, a game of frisbee or just to catch some rays. We like the less-crowded areas closer to the southern end of the park (near the ball fields), where you can usually find some shade. Enter at Grand Army Plaza, 3rd St and Prospect Park West or 9th St and Prospect Park West.
Take a ride on the carousel
The current iteration of the park's merry-go-round opened in 1952, but the horses on it have been around since 1912 (they were carved by carousel artist Charles Carmel). Celebrate their centennial during a special birthday celebration on June 10, and if a horse doesn't strike your fancy, go for a spin on one of the carousel's more exotic animals: a lion, giraffe or buck. Enter park from Willink entrance, Ocean Ave at Empire Blvd. June 10 noon–5pm; free. Rides $2.
Get lost in the Ravine
This evocatively rugged area at the heart of Prospect Park, dense with trees and bodies of water, is often described as a "natural" wonder that brings Adirondack flavor to Brooklyn—except that nature should share credit with park designers Frederick Law Olmsted and Calvert Vaux, the same guys behind Central Park. The ravine is proof that man tinkering with earth can bring out the best in both. Enter at 3rd St and Prospect Park West, 9th St and Prospect Park West or 15th St and Prospect Park West.
Go back in time at the Lefferts Historic House Museum
Built by a family of Dutch settlers, this small abode now functions as an educational center. Though many of its activities are kid-focused, you can take a tour of the space on weekends to see how Brooklynites lived in the 19th century. Enter park from Willink entrance, Ocean Ave at Empire Blvd. Thu–Sun noon–5pm; suggested admission $3, children 16 and under free. Tours Sat, Sun 1–4:30pm; free with admission.
Grab produce at the Greenmarket
GrowNYC, the organization that runs many of the city's farmer's markets, operates two separate Greenmarkets here: On Wednesdays, vendors set up shop at Bartel-Pritchard Square (15th St and Prospect Park West; Wed 8am–3pm), and on Saturdays, the larger Greenmarket at Grand Army Plaza draws crowds to the northern end of the park (Flatbush Ave at Prospect Park West; Sat 8am–4pm).
Share your thoughts