Jacqueline Murekatete, 27
Founder of Jacqueline's Human Rights Corner, a genocide prevention/education program that also helps survivors rebuild their lives; part of Miracle Corners of the World
By Nancy Huang Wed Apr 18 2012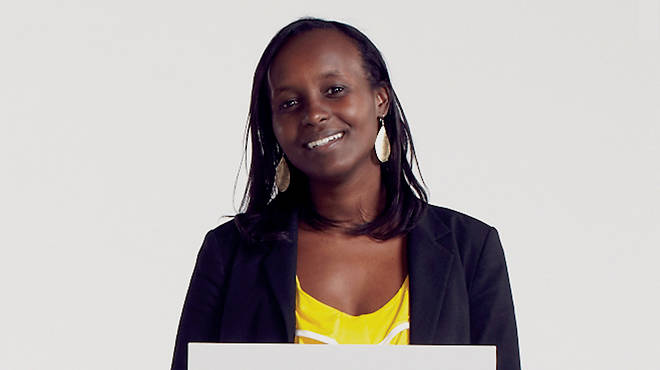 Jacqueline Murekatete, founder of Jacqueline's Human Rights Corner, a genocide prevention/education program that also helps survivors rebuild their lives; part of Miracle Corners of the World Photograph: Adam Krause
Jacqueline Murekatete's path as a human-rights activist began more than a decade ago, in her English class in Martin Van Buren High School in Queens. The class had just read Elie Wiesel's Night, a memoir of the author's experiences in Nazi concentration camps during World War II/the Holocaust. To complement the book, Murekatete's teacher invited David Gewirtzman, a Holocaust survivor, to speak to the class. The high-school sophomore was moved, but not simply because of his story. "I saw so many similarities between us," she says.
Murekatete (pronounced MUR-a-ka-tay-tay), herself a genocide survivor, was only nine years old when Hutu extremists embarked on a campaign to exterminate the Tutsi minority in Rwanda. According to the Rwandan government, an estimated 1 million people were killed, including Murekatete's family. Orphaned by the genocide, she was adopted by an uncle living in the United States.
Several years later, Gewirtzman encouraged Murekatete to share her own experience as a way to speak out against intolerance and hatred. Recalling such painful memories was initially difficult, but the feedback she received from others inspired her to continue. Murekatete has since spoken at hundreds of forums around the world, including the United Nations General Assembly. "I feel a responsibility to share my story," she says.
In 2007, Murekatete teamed up with Miracle Corners of the World (mcwglobal.org), a youth-focused nonprofit with a strong presence in Africa. Her work with the organization led to a partner initiative, MCW Jacqueline's Human Rights Corner, which was motivated by her vision of a genocide-free world and a more peaceful Rwanda.
Murekatete continues to raise awareness about genocide through various speaking engagements, and helped to open a community center in the Bugesera district of Rwanda in 2009—the center employs locals and provides educational and vocational training to community members, many of whom are genocide survivors. In 2010, she visited the center to see how it had progressed, marking her first time returning to Rwanda since escaping in 1994. And this spring, the activist will graduate from law school. She plans to use her degree to advocate for human rights around the world. "We are a global community now—all of us have a stake in speaking out against injustices," she says.
GET INVOLVED: MCW, a nonprofit dedicated to empowering youth to become positive agents of change, offers volunteer opportunities in its New York office for those interested in youth or international development, and for special events such as its annual Youth Leadership Retreat. Those looking to learn more about genocide prevention can invite MCW Jacqueline's Human Rights Corner to present talks to their communities, organizations or schools. For more information, visit mcwglobal.org or e-mail info@mcwglobal.org.
RELATED
Where to volunteer in NYC: Human rights
Users say
I already send 2 comments. THANK YOU.
I already send a message to Ms. Murekatete,- I am expecting her response. THANK YOU. Gerard Loiseau.
As a lawyer and Professor of International Relations during more than 10 years at the UNIVERSITY( HAITI ) after my graduation as Ph.D. from Paris ( France )- I would very much appreciate to obtain Ms. Murekatete's collaboration about a report or a book concerening the Wanda's tragedy. Ms. Murekatete is welcome to send me a message .or to phone me at 516-538-9088. I live in Long Island ( Hempstead )-NEW_YORK ,_ THANK YOU. Gerard LOISEAU.