Public eye: Michael Fazio, 38
New York street interviews: Stories from the sidewalk as told by real New Yorkers about their lives in the city that never sleeps.
By Kate Lowenstein Tue Sep 3 2013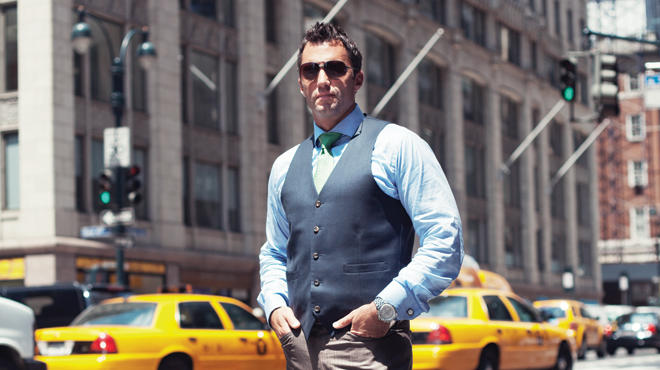 Michael Fazio, 38 Photograph: Allison Michael Orenstein
Madison Ave between 46th and 47th Sts

What do you call this look? What do I call it? Yeah, I don't want to sound like a pompous jerk-off, but to be honest with you, I wear all custom suits.

What do you do that allows you to wear only bespoke clothing? I own a temp staffing company; we do a lot with nursing, and the other half is banking, finance and real estate. It's all about finding talented people in the New York–New Jersey area and putting them to work. I have the easy job—I have a great staff and great contractors representing us. But I wouldn't say that's the most exciting piece of me.

Then let's cut to the chase. Well, I live in Tribeca in an awesome loft above Nobu, right on Hudson Street. I'm a Jersey boy, make no mistake, but I do live in Manhattan. But not a fist-pumping Jersey boy.

What do you think of the term bridge and tunnel? Meaningless to me. [Laughs] I make sure people know where I'm from. They're like, "Aw, you're a New Yorker now; Tribeca is so hot." I'm like, "Take it easy, I'm all good." I come from a blue-collar family. "Never forget your roots" is what I always say.

So you're self-made? Yeah, I'm from nothing. My mom was a secretary; my dad was an insulator in the union in New York.

And what do they make of your lifestyle? Unfortunately, my dad breathed in asbestos and died of mesothelioma, cancer of the lining of the lungs, at 50 years old. It was terrible. It sucks. My dad has been dead 12 years. People ask where I get my energy, and I say I'm trying to live life for him. My family was all Italian union workers that weren't college-educated. That's what they did, and that was fine. A vacation for me growing up was going to the Jersey Shore. Now it's the W in South Beach.

Does that get raised eyebrows from people at home? Yeah, no question. But it's all good. Self-fulfillment is not enough for me. I have a place at the beach, and I get more excited when I have a friend and his wife and four kids take it for a week than me going down there. It's never about the eyebrows or someone saying, "Oh look, Mike's driving a Bentley" or "hopping on a private jet." It's when someone says, "Omigod, he's so generous." That's what excites me more.
More from Michael
"I have a tremendous amount of money invested in Penn 6 across from Madison Square Garden."
You might also like
---
Events calendar for New York City
This hour-long tour of the Art Deco theater includ...

Celebrating its 40th anniversary this year, this e...

This three-week festival brings a bevy of Austrian...
16

more events »
Time Out videos
---
---
@TimeOutNewYork
Subscribe to Time Out New York on Spotify for playlists and recommendations from our Music team.


Check out New York's best restaurants, hottest street style, cool apartments and more.