The weirdest museum in NYC unveils a new season
Museum resurfaces with a fresh collection of objects strange and quotidian
By Andrew Frisicano Wed May 14 2014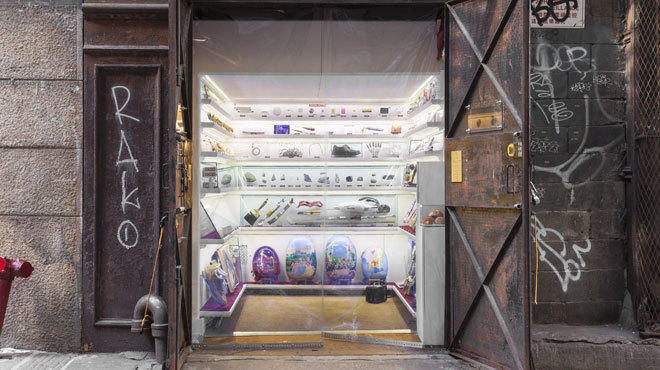 Museum Photograph: Naho Kubota

It would be hard to find a venue that makes better use of its space than Museum, the ungoogleable mini gallery that inhabits a 60-square-foot elevator shaft in a narrow Tribeca alley. The space opens its third season on May 15 at 7pm, with 20 collections, ranging from mass-produced consumer goods and repurposed materials to ad hoc inventions and historical curios. Disposable plastic spoons and Styrofoam "rocks" sit alongside items from North Korea, on loan from AP's chief photographer in Asia, David Guttenfelder.

Despite the tight quarters, Museum makes room for a permanent collection (including a shoe that was allegedly thrown at George W. Bush), a video reel and a café (a pastry and an espresso run $3 total). The organization even delves into programming this summer: From June 20 to 29, pop project Eternal Lips will create custom songs for visitors. Opening party attendees take note: The event promises a secret special performance—past guests of honor have included a Rudy Giuliani impersonator and Screw magazine founder Al Goldstein. See some of the exhibits below.
Censored Saudi pool toys
The inflatable-furniture packaging depicts scenes with curiously absent women, who have been blacked out by the Saudi Arabian religious police.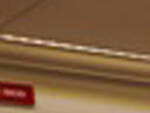 Alex Kalman, Josh Safdie and Benny Safdie, founders of Red Bucket Films, opened this unconventional museum in an abandoned elevator shaft. Its nondescript name seems part of their aesthetic, rooted in fascination with the unnoticed objects of everyday life: The museum's holdings are strange and sundry artifacts, such as objects that surfer Mark Cunningham found on the beach and what may be the shoe thrown at George W. Bush. Anyone can walk by this tiny Tribeca space at any hour to peer through its three windows, learning information about each object via a posted toll-free number (888-763-8839).
Cortlandt Alley, (between Franklin and White Sts), 10013
More info
---
You might also like
---
Here are the ten New York experiences you simply can't miss.
Don't fret, penny-pincher—each of these fun cheap date ideas will cost you $30 or less.
Tired of swamped tourist traps, huh? Check out these alternative things to do in New York.
Find more popular Things to Do features