Unconventional art classes in bars, parks and classrooms
Whether you find inspiration at the top of a bridge or the bottom of a bottle, get creative at these unconventional art classes.
By Jennifer M. Wood Mon Oct 22 2012
These unconventional art classes will have you reaching for your sketch pad in no time, especially if you like to drink, see bands, take walks or read comics. You don't need to be a Picasso to partake; all classes are non-competitive and open to all levels, so get ready to doodle.
For being entertained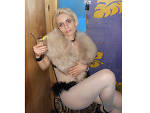 Each month, Otto's Shrunken Head hosts Draw-Mania!, a live variety show–art class hybrid that attracts a full house. Doodlers of all levels sketch live models who hold positions for up to 20 minutes. Breaks are anything but, with musicians, comedians and storytellers filling the drawathon gaps. • (draw-mania.com). Last Monday of the month 8pm–midnight; $15. BYO drawing materials.
538 E 14th St between Aves A and B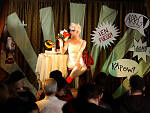 Sketching gets saucy at Dr. Sketchy's Anti-Art School, a worldwide alt-drawing movement that titillates participants with a constant supply of booze and underground performers turned posers. On November 10, burlesque artist and cosplayer Stella Chuu will pose as Ivy Valentine, the whip-wielding femme fatale from the SoulCalibur video game, at the reopened Slipper Room (167 Orchard St at Stanton St; 212-253-7246, slipperroom.com). • Visit drsketchy.com/branch/newyork for a complete schedule. Every other Saturday 4–7pm; $15, advance $12. BYO drawing materials.
---
For outdoorsy types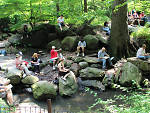 Don't let the Central Park Sketching & Art Meetup Group's name fool you: Manhattan's preeminent green space is only part of the terrain that its 3,000-strong membership has conquered. The Wild Boar statue in Sutton Place Park, the bridge over Peter Detmold Park and the soaring skyscrapers of Tudor City have all served as muses. Sign up online for future events (spaces fill up quickly), including a sketch session at the Morgan Library & Museum (Dec 8 11am–2pm) and a 100th Meetup spectacular in January. • Visit meetup.com/sketching for a complete schedule. Free (excluding museum admission). BYO drawing materials.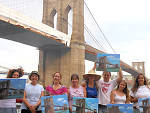 For a full-day immersion, join the Plein Air Painting School's outings to some of the city's most iconic and picturesque locations, such as Times Square, Central Park, Battery Park and the West 79th Street Boat Basin. Artist and founder Danielle Hatherley instructs groups of up to eight people by placing her easel up front and demonstrating each technique. Upcoming events include fall foliage workshops in Central Park (Tue 30 10am–5pm) and Washington Square Park (Nov 4 10am–5pm). • Visit thepleinairpaintingschool.com for a complete schedule. $139, includes painting materials to take home; BYO materials $89.
---
For boozehounds
Find out whether alcohol is a creative boon or bomb for you at the Painting Lounge's regular BYOB workshops. Inspired by the masters, these no-pressure classes invite attendees to re-create some of art history's greatest hits. Upcoming facsimiles include Monet's The Cliff, Etretat, Sunset (Fri 26 at 7pm; $50); Van Gogh's The Starry Night (Sat 27 at 1pm; $65) and A Pair of Shoes (Mon 29 at 7pm; $50); and Lichtenstein's Drowning Girl (Tue 30 at 7pm; $50). • (212-518-1803, paintinglounge.com). $50–$65; includes painting materials.
438 Union Ave between Devoe St and Metropolitan Ave, Williamsburg, Brooklyn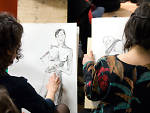 At Drink N' Draw, you bring your favorite art supplies, and 3rd Ward furnishes the visual and liquid inspiration. Approximately 100 would-be artists attend this popular Wednesday wind-down, which features all-you-can-drink suds and a nude model to awaken your figure-drawing talents. Although the event is totally noncompetitive, a few proud—and actually talented—attendees are encouraged to submit their best work to be posted on 3rd Ward's blog. • (718-715-4961, 3rdward.com/drink-n-draw). Wed 8–10:30pm; $15, with a friend $10, members free. BYO drawing materials.
195 Morgan Ave between Meadow and Stagg Sts, Williamsburg, Brooklyn
---
For comic-book lovers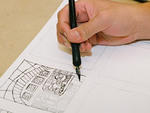 In the 92nd Street Y's Comic Storytelling course, graphic novelist Josh Bayer will help you refine your narrative-illustration skills. Over eight Monday evenings, aspiring cartoonists can practice a variety of comics-making methods, from single-panel to storyboard, and fine-tune their personal styles. • (212-415-5500, 92y.org). First session Nov 12 7–9:30pm; $330. BYO materials; supply list available online.


1395 Lexington Ave at 92nd St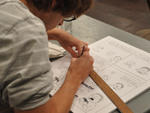 For more immediate gratification, graphic novelist (and founding member of Dr. Sketchy's Anti-Art School) Steven Walker offers weekly Sunday workshops on Comics and Sequential Art. Mornings are spent figure-drawing in order to master proportion, line, light and shadow; afternoons are focused on storytelling, and may touch on illustration as well as comic language—participants can opt for just the a.m. or the p.m. session if they wish. • (212-247-4510, theartstudentsleague.org). Sun 8:45am–4:45pm; $85–$140 per month. BYO materials; supply list available online.
The Art Students League of New York, 215 W 57th St between Broadway and Seventh Ave
---
---