Walking tours along New York City's waterfront
The Municipal Art Society offers a series of walking tours along the shore to look at NYC's riverbanks and beaches.
By Nina Stoller-Lindsey Mon Jul 9 2012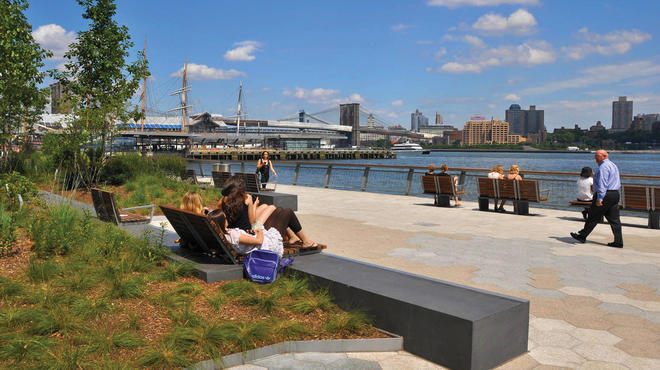 At 578 miles, New York City's entire shoreline is as long as the distance from the Bronx to Winston-Salem, North Carolina, and it would take the average walker more than eight straight days to travel it. Starting July 15, the Municipal Art Society will examine a few stretches of that waterfront with six walking tours highlighting its past and present, along with anticipated future projects. Strolls along Coney Island, as well as the Hudson and East Rivers look at New York's industrial history, which grew out of its ports, and introduce current developments that reclaim the space as parkland.
"We're just so lucky—most cities don't have this the way we do," says MAS vice president and managing director Mary Rowe, who describes a "recreational vibrancy" along the shore. "Where do you see people with their suit jackets over their shoulders? Where do people go to have an hour of respite and look at the sunset? It's by the water."
Architectural historians Francis Morrone (a Wall Street Journal and New York Times contributor), Matt Postal (coauthor of Guide to New York City Landmarks) and Joe Svehlak (a preservationist and Brooklyn resident) will guide the tours, engaging participants in dialogue about the future of the waterfront and its role in environmental conservation. "Sustainability," says Rowe, "is an important part of how a city redevelops in a way that's appropriate to face challenges [such as] environmental [change]."
Through the early 20th century, maritime commerce dominated the bustling New York Harbor. But when the shipping industry faded, the shoreline deteriorated into a postwar wasteland. Yet during the past 20 years, it has undergone a renaissance, as cutting-edge architects and landscapers have transformed the disused space into public parks, luxury residences and commercial buildings. The Starrett-Lehigh Building, a stop on Postal's West Chelsea and Hudson Yards tour, exemplifies this transition. The 1930s modernist structure once served as an industrial storage complex but now houses a hodgepodge of businesses, including Martha Stewart Living Omnimedia and High Line architecture firm Diller Scofidio + Renfro.
Meanwhile, the first of Morrone's three-part Walking the Waterfront series (July 15 at 2pm) starts at the base of Manhattan, where the initial phase of the new East River Waterfront Esplanade opened in July 2011, and continues through undeveloped sections of the South Street Seaport. The other two tours examine development along the Hudson (Aug 18 at 2pm) and the Brooklyn shorefront (Aug 25 at 6pm).
The events are part of MAS's larger mission to engage Gothamites in the preservation and urban planning of the shoreline. They're also excuses to head to the shore on a hot summer day. "In cities around the world," notes Rowe, "the most successful waterfront redevelopments are the ones that maximize the opportunity for city dwellers to be able to experience direct access to the water."
DIP IN! Locations disclosed with R.S.V.P.; call 212-935-2075 or visit mas.org for details. July 15–Aug 25, times vary; $20, members $15.
Write your own review