Winter alt sports: Try these cold-weather outdoor activities
Escape the gym with these winter alt sports, such as swimming in the Atlantic and other bracing outdoor activities.
By Sandra Plasse Mon Dec 10 2012
Photograph: Tom "Iceman" Mcgann
Coney Island Polar Bear Club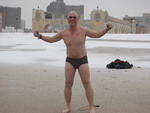 Coney Island Polar Bear Club
For the 150 members and 200 friends of the Coney Island Polar Bear Club, the sound of a conch shell is the call to plunge into the Atlantic Ocean. The club was founded in 1903 by New York's "Father of Physical Culture" Bernarr Macfadden, who believed that an icy dip boosts stamina, immunity and virility (woof). The frigid weekly swims include jumping jacks to warm up and a circled-up chant of "polar bear, polar bear" followed by a freestyle swimming session. To prevent hypothermia, lifeguards limit immersion to ten minutes, and members often partake in hot showers and banya visits post-dip. Nonmembers can participate in one free guest swim per year in addition to the open swim on New Year's Day (1pm; meet 11am at Boardwalk at Stillwell Ave, Coney Island, Brooklyn), although donations to campsunshine.org are encouraged. If you don't want to leave your belongings unattended, bring a friend along to hold your things and take pictures. 917-533-3568, polarbearclub.org. Annual membership $35, guest swim free.
Meet at the New York Aquarium, Surf Ave at 8th St, Coney Island, Brooklyn
Sun noon; Through Apr 28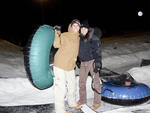 Snow tubing
New York's Tuxedo Ridge is open for tubing all winter, but we recommend a nocturnal visit with LivingSocial, which has reserved the hill for after-work fun followed by hot chocolate around an indoor campfire. Don snow pants and take a running jump onto a one-person tube; you'll have two hours to race your friends down the mountain's six snowy lanes. After sliding along trails and berms and rediscovering the big dipper, dig into an all-you-can-eat buffet at the Ridge Pub. Buses board in Hell's Kitchen at 6pm and return just in time for a nightcap around midnight. livingsocial.com/events. $65, reservations required.
Meet at W 45th St at Eleventh Ave
Thu, Fri 6pm; Jan 3–Feb 28.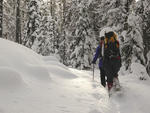 Snowshoeing
If you like hiking, try it with a twist: Take a day trip to the Hudson Valley or the Catskills, where you can trek to altitudes of up to 4,200 feet atop fresh powder along trails such as the Devil's Path. Discover Outdoors organizes five- to ten-mile rambles through serene notches and valleys created by Ice Age glaciers and provides MSR-brand snowshoes to strap onto your waterproof boots. (If the mountains are bare, prepare for a regular hike instead.) The company offers a variety of winter wonderland workouts, such as "Snowshoe and Whiskey Tasting" at a distillery (next date: Dec 30) and "Snowshoe and Howl," which includes a visit to a wolf sanctuary (next date: Dec 29). Go to discoveroutdoors.com for a full schedule. $89–$99.
Locations vary
Times vary; Through Mar 25.
---
You might also like
---